Princess Eugenie named her son after these royal relatives
Their new son is named August Philip Hawke Brooksbank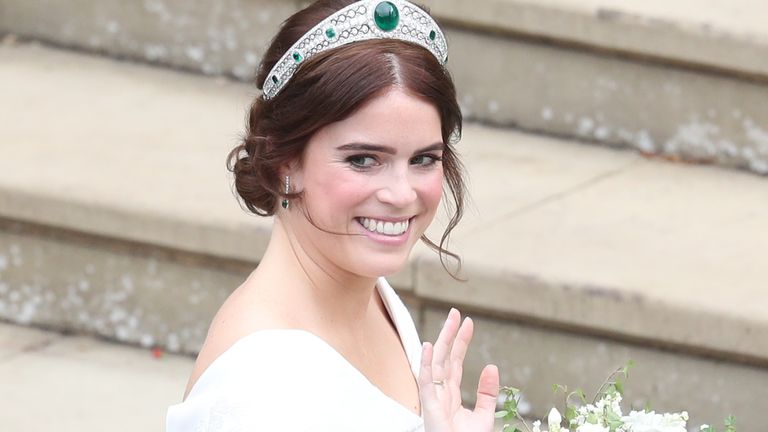 (Image credit: Andrew Matthews - WPA Pool/Getty Images)
By Sarah Finley
Princess Eugenie and Jack Brooksbank announced their son's name this week and now we know what royal relatives they named him after.
· The royal gave birth to August 10 days ago and didn't reveal his name until Friday.
· They shared his full name, August Philip Hawke Brooksbank, in a sweet Instagram post.
· In more royal news according to sources Meghan Markle and Prince Harry have already filmed their tell-all Oprah show,
After posting the cute pictures of August, Princess Eugenie took to her Instagram stories to confirm that her son is named after his relatives.
She said: "On his grandfather's birthday weekend, thinking of my grandfather, we are introducing our little boy.
"He is named after his great-grandfather and both of his great x5 grandfathers."
Philip, one of August's middle names, of course, refers to Prince Philip, who is currently in hospital, but is their son's great grandfather and Eugenie's grandfather.
Joe Little, the editor of Majesty magazine, told PA news: "I would have been surprised if Philip hadn't featured somewhere, given not so much the fact that Eugenie's grandfather is in hospital but the fact that, all being well, he will celebrate his 100th birthday in a few months."
His other middle name, Hawke, is said to be from Jack's side of the family. However, it's his unusual first name that has many people guessing.
The royal couple named him after August's great-great-great-great-great-grandfather Prince Albert, whose middle name was Augustus. The Prince was married to Queen Victoria in 1840 and they had nine children together.
It's also been revealed that it is a royal tradition for them to introduce the baby to the whole family before they publicly reveal the name. We wonder how many Zoom calls they had for baby August's introductions?