Princess Catherine's secret wedding comment to Prince William unearthed
Princess Catherine and Prince William are celebrating their 12th wedding anniversary today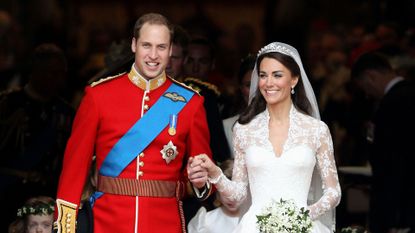 (Image credit: Getty Images)
On the day of their 12th wedding anniversary, a sweet conversation between Princess Catherine and Prince William has been unearthed on social media.
Royal fans have been treated to a glimpse into Princess Catherine and Prince William's relationship after a video of their wedding day went viral.
The Prince and Princess of Wales tied the knot all the way back on April 29 2011, before they welcomed their three children Prince George, Princess Charlotte and Prince Louis.
But just after they walked down the aisle, the couple shared a very intimate moment in their royal carriage which has now been shared on TikTok.
According to lip readers, William tells his new wife, "you look happy" and she says back to him, "yes!"
Kate then asks, "are you happy?", to which her new husband replies, "yes, very".
The couple have been notoriously private about their romance, after meeting back in while both studying at St. Andrews University in Scotland.
Today marks their 12-year wedding anniversary, with Kate expected to receive a pearl gift from her husband.
Although the Princess has been seen borrowing the Queen's string of pearls in the past, the Prince may decide to buy her some pearl earrings.
This comes after the pair previously answered some personal questions in a post-engagement interview.
William said at the time, "When I first met Kate, I knew there was something very special about her.
"I knew there was possibly something that I wanted to explore there. We ended up being friends for a while and that just sort of was a good foundation. Because I do generally believe now that being friends with one another is a massive advantage. And it just went from there."
Kate then added, "I actually think I went bright red when I met you and sort of scuttled off, feeling very shy. But we did become very close friends from quite early."
Meanwhile, it was recently claimed that Kate and William prefer their "modest" home, Adelaide Cottage to Windsor Castle.
Speaking on ITV's This Morning, royal correspondent Camilla Tominey claimed the couple loves their home so much, they may not move when they become King and Queen.
"The Wales' don't want to move into Windsor Castle because they're actually quite happy in Adelaide Cottage, which by comparison is modest accommodation.
"Not by comparison to us, but by comparison to royal accommodation."
Naomi is a news and lifestyle journalist and digital content creator with bylines in The Independent, The Sun, Cosmopolitan, and Fabulous. She covers a range of topics and currently works at Heart Radio in London.