Princess Catherine's emotional chat with royal fan about Diana revealed
Princess Catherine opened up about her late mother in law in a chat with a royal fan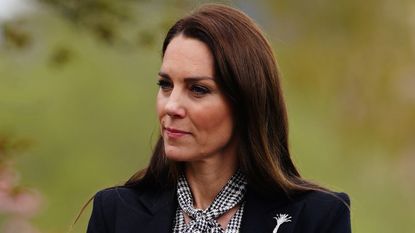 (Image credit: Getty Images)
Princess Catherine has given some rare comments about Princess Diana while chatting to a fan in Wales this week.
Princess Catherine gave a rare insight into her personal life this week when she opened up about her mother-in-law Princess Diana.
The Princess of Wales and her husband, Prince William, visited Wales on April 28 as part of their latest tour of the UK.
And while the couple greeted well-wishers in Merthyr Tydfil, Kate spoke about Diana's ring, which William gave to her when he proposed back in 2010.
In a video shared on Twitter, Kate tells a well-wisher, "It's the same ring and it was exactly the same size when I tried it on."
Opening up about her family, she added, "With the children and the grandchildren, she would've loved being a grandmother so much. She'd be brilliant. We miss her every day."
Princess Diana's ring was given to Kate by William, with the Prince of Wales previously speaking about how important it was to him.
The royal previously said, "It's my mother's engagement ring, so I thought it was quite nice because obviously, she's not going to be around to share in any of the fun and excitement of all this. This is my way of keeping her sort of close to it all."
Royal fans might know that Prince Harry actually inherited the ring from his mother, but gave it to William when he decided to propose to Kate.
Princess Diana's former butler Paul Burrell recalled a conversation the brothers had, "Harry said to [William], 'Wouldn't it be fitting if she had Mummy's ring? Then one day, that ring will be sat on the throne of England.'"
Meanwhile, William and Kate were visiting the Welsh village of Aberfan which was the site of the 1966 disaster where 144 people, including 116 children, were killed.
The disaster hit when a colliery spoil tip collapsed and sent tonnes of ash slurry onto the village below at 9.13am on October 21 1966.
The couple walked through the Aberfan Memorial Garden to pay their respects to those who passed away, including the site of former Pantglas Primary School, which was engulfed by the landslide.
They were guided by former pupil at Pantglas Primary School David Davies and met trustees from the Aberfan Memorial Trust.
Naomi is a news and lifestyle journalist and digital content creator with bylines in The Independent, The Sun, Cosmopolitan, and Fabulous. She covers a range of topics and currently works at Heart Radio in London.