Prince William makes hilariously unexpected FaceTime call as he cracks jokes with school kids
Prince William made a very unexpected appearance on a hilarious FaceTime call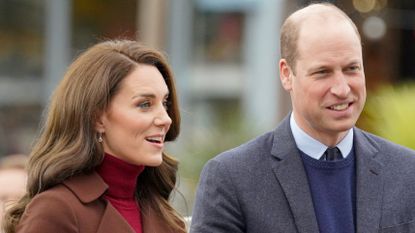 (Image credit: Getty Images)
Prince William made an unexpected appearance on a FaceTime call to chat to a group of school children after one mom met him during a royal outing.
Prince William surprised a group of teenagers at school when one of their mother's asked him to give them a call on FaceTime.
A clip of Prince William laughing and joking with the pupils went viral online after agreeing to feature on the video call during what appears to be a recent royal engagement.
---
Prince William beamed and cracked jokes as he appeared on a FaceTime call to a group of school children during a recent royal engagement.
After presumably meeting the mother of one of the students during an engagement, Prince William seemingly agreed to join her on a FaceTime call to surprise them.
In a viral video clip shared on TikTok, the future King, who lives at Adelaide Cottage in Windsor with Kate Middleton, Prince George, Princess Charlotte and Prince Louis, can be seen laughing and chatting to the group, with a caption on the video saying, "Prince William calls us at lunch."
Making a cheeky quip, William asked, "Are you guys doing any work?"
Laughing, the group of pupils replied, No! It's lunch."
Holding up a homemade cupcake, the Prince of Wales added, "Your mother's feeding me her cakes."
Showing off his cheeky sense of humor, William went on to joke, "They're not very good, I told her she wouldn't win Bake Off," leaving the kids in stitches.
Royal fans took to the comment section in confusion and awe, commending Prince William for his casual, down to earth nature.
"He seems like such a nice guy," one commenter penned, while another agreed, "He's gonna be such a great King."
"Prince William is such a gem," a third added, while another comment said, "Seems like a lovely, normal guy."
"William and Kate are so down to earth," another fan chipped in to add.
Prince William school recess FaceTime comes as Kate Middleton reunited with a former school teacher during the couple's recent royal appearance in Cornwall.
As Kate and William enjoyed a royal walkabout outside the National Maritime Museum Cornwall, Princess Catherine bumped into Jim Embury, who was a teacher at her prep school.
Embracing him in a hug, Kate reportedly exclaimed, "Oh my goodness. I do recognise you. I remember the classroom and everything!"
After remarking that it's "such a small world," Kate went on to sweetly share, "The things you taught me, I now teach to my children."