Kate Middleton and Meghan Markle's wedding rings share a very special hidden connection
Kate Middleton and Meghan Markle's wedding rings have something in common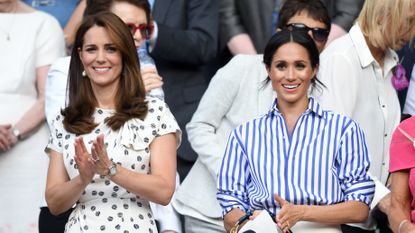 (Image credit: Getty Images)
Kate Middleton and Meghan Markle's wedding rings share a special hidden connection.
---
Prince Harry's long-awaited Spare memoir details the sweet connection Kate Middleton and Meghan Markle's wedding rings share.
In a passage in the book, Prince Harry recalled his and Meghan Markle's wedding day, with the couple having tied the knot in May 2018 at St George's Chapel at Windsor Castle.
He explained that Meghan Markle's wedding band was made from the same Welsh gold that created Kate Middleton's for her wedding to Prince William in April 2011, with the future King and Queen Consort saying their vows at Westminster Abbey.
Harry wrote that Meghan's ring came from "the same hunk of Welsh gold that had provided Kate's", revealing that the late Queen Elizabeth II had given the last of the precious gold to be put to use making the ring.
"Granny told me that this was nearly the last of it," Harry wrote, adding, "Last of the gold. That was how I felt about Meg."
The special gold used for the Princess of Wales' ring and the Duchess of Sussex's ring is thought to come from the Clogau St David's mine at Bontddu in North Wales, with Welsh gold holding sentimental and historical value for royal wedding rings.
Queen Elizabeth II, the Queen Mother, Princess Diana, Sophie Wessex and the Queen's younger sister, Princess Margaret, all wore the rare and expensive Welsh gold wedding rings, too.
Of course, Meghan and Kate's rings are also presents from the late monarch, who passed away in September 2022 at Balmoral Castle.
Charlotte Leigh, ring expert and jeweler, told The Express, "The Princess of Wales and the Duchess of Sussex were also both gifted wedding rings from Queen Elizabeth II, made from Welsh gold, which has become a royal tradition started by King George VI."
A St James's Palace statement was shared ahead of Kate and William's wedding, detailing the news that her ring would be made from the iconic gold.
"The wedding ring that Catherine Middleton will wear will be made of Welsh gold. The gold was given to Prince William by the Queen shortly after the couple were engaged," it read.
The statement highlighted the royal family importance of the precious metal, adding, "It has been in the family's possession for some years and has been in the care of the royal jewellers."
It was later confirmed in another statement that Meghan's ring would also be given the Welsh gold treatment, with Kensington Palace confirming the news.