Prince William and Princess Catherine's 'pact' that kept their budding romance 'below the radar' at university
Prince William and Princess Catherine tried to keep their relationship under wraps at university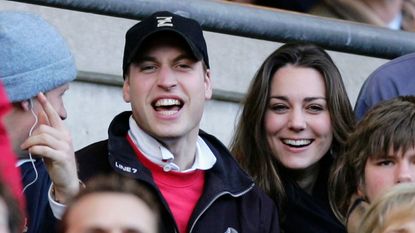 (Image credit: Getty Images)
Prince William and Princess Catherine reportedly tried hard to keep their budding romance under wraps when they were young university students.
---
Prince William and Kate Middleton's iconic love story began in 2001 when they both became students at St Andrews University in Scotland.
Despite forming a friendship at first, Kate's good looks earned her a very flattering nickname amongst fellow students and the Princess of Wales soon captured the affections of her now-husband.
After William's flirty comment during a fateful night out sparked the start of their romance, the couple, who now live at Adelaide Cottage in Windsor with Prince George, Princess Charlotte and Prince Louis, went on to move in together before their love really blossomed.
After moving into a shared university house with two close friends on a road called Hope Street, Kate and William's relationship really began to bloom.
According to Vanity Fair, they were careful to keep word of their courtship on the low, however.
Writing for the publication in 2010, royal expert Katie Nicholl claimed, "William and Kate had fallen in love and were enjoying a conventional university romance, albeit one involving elaborate cover-ups and decoys.
"William and Kate were determined to keep their fledgling romance quiet, and behind the closed doors of 13a Hope Street they could. Their bedrooms were on separate landings, but by this stage it was nothing more than pretence."
Detailing their agreement to subtly arrive at events at different times and never hold hands in public, Katie added, "In a bid to keep their relationship below the radar for as long as possible, they would leave the house at different times and arrive at dinner parties separately, and made a pact never to hold hands in public."
Despite a brief breakup in 2007, Prince William went on to get down on one knee in 2010 and asked Kate to marry him during a romantic trip to Kenya, before the pair tied the knot in April 2011.
Opening up about their short split during their engagement interview with Tom Bradby, William admitted, "We were both very young. We were both finding ourselves and such and being different characters and such."
Speaking on how the separation impacted her, Catherine added, "At the time, I wasn't very happy about it, but it made me a stronger person."