Duchess Meghan joins Prince Harry during visit to school via Skype video call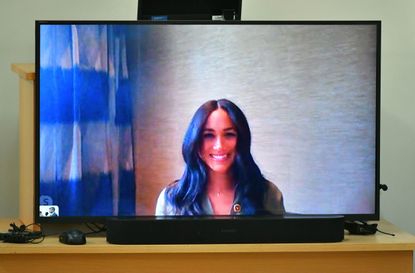 (Image credit: Getty)
The Duke and Duchess of Sussex are currently in the midst of their royal tour of South Africa, having spent last week completing a series of royal engagements together.
Prince Harry embarked on a solo engagement in Malawi yesterday while Duchess Meghan remained in Cape Town to care for baby Archie.
The Duchess made an appearance via a Skype video link as her husband joined school girls to hear about how they are being supported with their education.
Now, the pair have gone their separate ways however, with Prince Harry heading off to Malawi, while the Duchess has remained in Cape Town with their four-month-old son, Archie Harrison.
The distance didn't stop the 38-year-old Duchess from getting involved with her husband's engagements, though. Thanks to technology, Meghan was able to make an appearance as Prince Harry visited the Nalikule College of Education yesterday.
As the 35-year-old prince spoke with female students at the school to hear about how they are being helped with their education, Duchess Meghan joined the class via Skype to get involved in the discussions.
As she appeared on the screen looking relaxed in a khaki shirt and with her hair in loose waves, Harry announced, "I know there's somebody else you'd far rather hear from than me, hopefully if technology doesn't fail us you may see somebody on the screen."
The monitor then connected, revealing Meghan in what appeared to be a hotel room.
Grinning into the camera, the former actress said, "I'm so happy to be with you, is there a delay?" to which Harry responded: 'No, it's great, keep going.'
Giving an adorable update on the whereabouts of her and Harry's baby son, the Duchess went on to explain, "Archie's taking a nap."
READ MORE:Baby Archie makes first public appearance as Prince Harry and Duchess Meghan introduce him in South Africa
During the visit, Harry learned how schoolgirls are being helped by Cama, a network of young women who have been able to attend secondary school thanks to help from the Campaign for Female Education.
It's understandably a cause close to Meghan's heart - given how passionately she campaigns for women's rights and education.
In fact, she's even met with the organisation's executive director,Angeline Murimirwa, saying via the video link,"Angie, when you and I first met, I was so struck by CAMA and everything you do."
The Queen's Commonwealth Trust, of which Prince Harry and Duchess Meghan serve as presidence and vice-president, has been working with Cama since 2017.
Meanwhile, the Duchess of Sussex recently met with female leaders in Cape Town (opens in new tab) to discuss the epidemic of gender based violence taking place in the nation.
She even undertook a private visit to the site of the murder of young South African studentUyinene Mrwetyana.
The 19-year-old was attacked and brutally killed at a post office in Johannesburg, inspiring an outraged rally against gender-based violence in the area.