Prince Harry honours mum Princess Diana as he follows in her footsteps at Angola landmine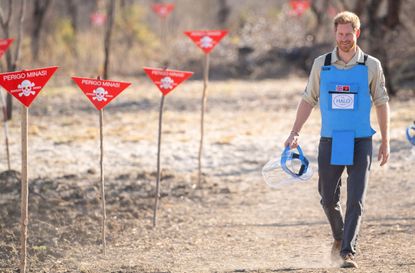 (Image credit: Getty)
The Duke of Sussex, Prince Harry followed in his mother, Princess Diana's foot prints today as he visited an Angolan landmine.
Prince Harry stepped out for some solo engagements on the fifth day of the royal tour of South Africa today.
He followed in his mother, Princess Diana's foot steps as he visited a mine site in Angola.
As he stepped out without Duchess Meghan for the solo engagement on the fifth day of the royal tour, the 35-year-old Prince wore protective body armour and a visor to walk through the partially cleared mine site.
He was also asked to destroy an anti-personnel mine with a controlled explosion after it was discovered earlier in the day.
The poignant images and Harry's work today mirrors the important work his mother Princess Diana did just months before her passing - and it was likely to be an emotional moment for the Duke.
The photographs of Harry at the site look almost identical to those of Princess Diana when she visited a similar minefield in Angola to work with the Halo Trust in 1997. The trustworks to clear landmines and other explosives in countries recovering from war.
Speaking at the site, Harry praised the efforts of the trust, saying, "Landmines are an unhealed scar of war. By clearing the landmines we can help this community find peace, and with peace comes opportunity.
READ MORE:The Duchess of Sussex pays tribute to Diana during capsule collection launch
"Additionally, we can protect the diverse and unique wildlife that relies on the beautiful Kuito river that I slept beside last night.
"That river and those wildlife are your natural assets and, if looked after, will bring you unlimited opportunities in the conservation-led economy."
Prince Harry and Duchess Meghan's Instagram account, Sussex Royal, shared a poignant image of Princess Diana today, in honour of the Prince's important engagement.
Beside the image, a caption reads: 'Today in Angola The Duke of Sussex will retrace his mother's steps to see the legacy of her work and how her connection with this community helped make the elimination of landmines a reality.
'In 1997 Diana Princess of Wales visited Huambo to bring global attention to the crisis of landmines and the people whose lives were being destroyed. Two decades later, the area has transformed from desolate and unhabitable to lively and vibrant, with colleges, schools and small businesses.
READ MORE:Prince Harry says he feels so 'overwhelmed' by world issues that he 'struggles to get out of bed' as Meghan opens up on mental health
Prince Harry will later travel to Huambo where he will rename the Orthopaedic Centre after Princess Diana.
During Harry's solo engagements, Duchess Meghan and their son Archie will remain in Cape Town, before meeting back up again with him again ahead of engagements in Johannesburg.