Prince Charles shows off his dance moves at pre Platinum Jubilee party
Just a few days before the official start of the Queen's Platinum Jubilee celebrations, Prince Charles surprised guests at a special tea party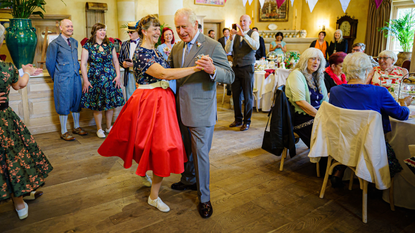 (Image credit: BEN BIRCHALL / Contributor)
Earlier this week, Prince Charles attended a tea party hosted by the Prince's Foundation at Highgrove and surprised everyone with some pretty awesome dance moves.
The heir to the throne stepped on the dance floor with dancer Bridget Tibbs
The partners also spoke about the environmental issues that plague the world
Queen Elizabeth's eldest son attended the event, meant to combat loneliness across communities, alongside artist Ruby Turner and TV star Jools Holland.
A few minutes after his arrival, he was joined on the dance floor by Bridget to perform a tango to a rendition of Just Softly As a Morning Sunrise.
"It was wonderful," Bridget said about the happening. "He was very lovely to dance with, a lovely sense of rhythm, a nice hold. It was a pleasure."
The professional dancer also revealed that the duo spoke about important issues following their performance. "He was delightful to talk to and we had a good chat," she said. "I was actually talking to him about environmental issues and saying the work that he does is amazing."
---
The 73-year-old royal also spent some time with special guest Elizabeth Powell, who actually celebrated her 100th birthday earlier last month. He gifted her a bouquet of flowers picked from his own garden alongside a birthday card that featured a print of his own paintings.
'I'm so surprised by everything, it's so beautiful here and Prince Charles was so very nice, bless him," Elizabeth said after the event. "He wished me a happy birthday and asked if I was keeping well and if I live on my own, which I do in a bungalow not far from my son, his wife and my grandchildren."
According to reports, each guest was also gifted a bag containing a slew of items donated by friends of the Prince's Foundation. Products included a voucher for a Davis Austen rose, a Platinum Jubilee key ring and a candle, a scarf from Johnstons of Elgin, Bramley hand products, a mug from David Austen, a Halcyon Days tea tidy, Highgrove berry tea and more.
The event functioned as a warm up to the plenty of happenings that Prince Charles will have to partake in throughout the upcoming few days to honor the Queen's Platinum Jubilee. It's not every day that your mother celebrates 70 years on the throne of a country, after all.
Anna Rahmanan is a New York-based writer and editor who covers culture, entertainment, food, fashion and travel news. Anna's words have appeared on Time Out New York, the Huffington Post, Fortune, Forbes, Us Weekly, Bon Appetit and Brooklyn Magazine, among other outlets.