Prince Charles faces concern from royal fans as internet searches for his swollen 'sausage fingers' soar
There's been a rise in internet searches for Charles' fingers...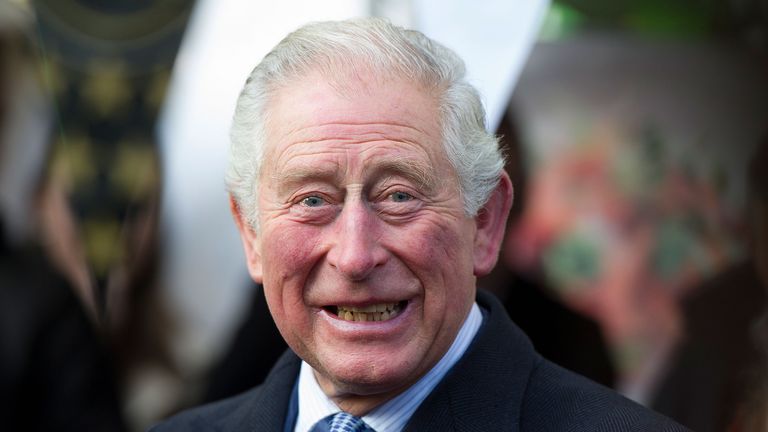 (Image credit: Photo by Eddie Mulholland - WPA Pool/Getty Images)
Prince Charles has sparked concern among royal fans, with a huge spike in internet searches on his swollen and sore-looking "sausage fingers" being observed in the past year. 
Prince Charles' fingers have become a concern among royal fans, with internet searches for his swollen hands spiking. 
The Prince of Wales is believed to have referred to his "sausage fingers" himself during a trip to Australia back in 2012 and the term has become the seventh most Googled in the UK over the past year.
This royal news comes after it was reported that Duchess Camilla is "dreading" the day Prince Charles takes the throne. 
---
Prince Charles' hands have become a growing point of interest for royal fans over the past year, it seems, with 'Prince Charles fingers' and 'Prince Charles sausage fingers' now among the most Googled search terms for the royal. 
The Prince of Wales' so-called 'sausage fingers' have made it to fourth place in the list of Brits' most searched internet queries about the Prince in the past 12 months after various images of the future King's puffy pointers sparked concern among his supporters. 
The term 'Prince Charles fingers' also brings in an average of 33K Google searches every month according to keyword research website Keyword Tool, with royal fans keen to know the reason for their enlarged appearance. This figure rose considerably after Charles was photographed in March 2021 and has continued to rise as the Prince has made more public outings since lockdown restrictions have been lifted in the UK.
Now that restrictions in the UK are continuing to lift, Prince Charles and Camilla have been attending to their royal duties once again and have been seen out at public events. 
The royal couple visited a pub in Clapham Old Town and the two tasted some of the local beers. This visit took place at the end of May 2021 and google searches concerning the Prince's fingers spiked.
The Prince often keeps his hands in his pockets or by his side but on this occasion, he was photographed with his hands in plain view sipping from a pint of beer.
The image surprised many fans who took to google and social media to question why the Prince's fingers appeared to be so swollen. One fan wrote on Twitter, "What's going on with his hands/fingers?"
Another royal fan said that they were simply, "Fascinated by his sausage fingers."
What's going on with his hands/fingers? 😳 pic.twitter.com/8S5VtcXMPeMay 27, 2021
See more
---
More from woman&home:
---
Prince Charles' hands and feet were noticeably swollen when he visited India with Duchess Camilla in 2019 and concern grew among royal fans once when he stepped out for Prince Philip's funeral last month with red, swollen fingers again. 
"I've never noticed the hands of Prince Charles until this photo! Is he ok? OMG they are so swollen," one wrote on Twitter after the funeral. 
"Why does Prince Charles have swollen hands and feet?," another social media user penned earlier this year. 
Another worried poster added, ''Is there something wrong with Prince Charles? His hands seem very swollen lately?" alongside images from his India trip. 
Charles himself is reported to have made reference to his enlarged digits during a trip to Australia in 2012, dubbing them his "sausage fingers" after hours of flying to the scorching country, as reported by Cornwall Live. 
It's been noticed that Charles' fingers and toes appear particularly swollen when he steps out for royal engagements abroad, after long flights and in hot weather. 
The future King, whose permanent residence is Clarence House where he lives with Duchess Camilla, was often required to carry out royal engagements overseas before travel restrictions related to the Covid-19 pandemic came into place.
Google searches from those after answers on the reason behind this type of swelling have soared, with 'sausage fingers meaning' also a popular search term. 
According to Healthline, 'sausage fingers' relates to the medical condition Dactylitis. The website states in an article medically reviewed by Brenda B. Spriggs, a board-certified physician in internal medicine and rheumatology, "Dactylitis is severe inflammation of the finger and toe joints. The puffy nature of the inflammation can make your digits look like sausages."
The most common cause of 'sausage fingers' is psoriatic arthritis, a disease that causes the immune system to attack the tissue surrounding the joints.
The NHS website explains that the condition can get "progressively worse" in later life, adding, "if psoriatic arthritis is diagnosed and treated early, its progression can be slowed down and permanent joint damage can be prevented or minimized".
If you're concerned about swelling of your hands or feet, contact your doctor who will be able to talk through potential causes and treatments.