Prince Charles and the Duchess of Cornwall praise 'wonderful' NHS staff and volunteers for Thank You Day
The Prince of Wales and Duchess Camilla shared their appreciation with a series of posts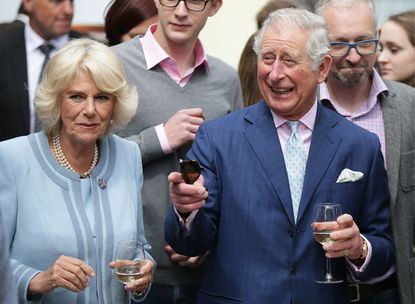 (Image credit: Image library - Rights unknown)
Prince Charles and Duchess Camilla have praised the staff of the NHS for their "wonderful" work on the inaugural Thank You Day.
4th July marks the first Thank You Day for key workers and volunteers who've worked throughout the pandemic.
Prince Charles and Duchess Camilla both shared posts to the Clarence House Instagram account.
---
The Prince of Wales recorded a radio interview that was broadcasted this afternoon across 180 member stations of the Hospital Broadcasting Association, on the very first Thank You Day in honor of those who've been an essential part of keeping the country going throughout the pandemic.
With Thank You Day taking place a day before the NHS's 73rd birthday on Monday 5th July, Prince Charles gave a specific shout-out to the organization's workers on the show, and in a tribute posted to the Clarance House Instagram account.
He said, "Throughout this past, extraordinary year, I have been profoundly impressed by the dedication shown by our wonderful N.H.S. staff and volunteers right across the country, and have found myself marvelling, time and time again, at the sheer resilience and indomitable spirit shown by everyone as we have faced the challenge of this most testing of times."
Further showing his appreciation, the Clarence House Instagram page shared two photos of the future king meeting patients and staff, with smiles all round.
Fans of Prince Charles wasted no time in praising the images and his appearance on the radio show.
"I don't care what anyone negative says he does care about stuff he is amazing," wrote one supporter, while another commenter was similarly complimentary: "You are going to make a great King."
Duchess Camilla also shared an image, with a glass in hand and a note dedicated to the nation's volunteers.

She said, "On this very special #ThankYouDay, I wanted to say a heartfelt "Cheers" to every single one of this country's wonderful volunteers, who have made such an enormous difference to us all over the past year."
While Camilla was absent from the radio program, Prince Charles spoke about his favorite music and of the artists who've contributed to the work at the Prince's Trust since he started it in 1976.
He also revealed that he was "extremely proud" to learn that since its beginning, the Trust "has helped more than a million young people into education training employment or their own enterprises."
One of the songs that Prince Charles included in the program was Diana Ross' hit Upside Down, along with the story behind his choice, "Over the years I have been enormously grateful to the many artists who have so generously given their time to perform at events to raise money for my Prince's Trust," he told listeners.
One of the performers who has helped transform the lives of those young people is the great Diana Ross who, in 2002, performed [this song] at a concert in aid of my Trust."
Along with disco, traditional Scottish song Bennachie made Prince Charles' list, "As Scotland and Aberdeenshire particularly have such a special place in my heart with so many childhood memories and having also been to school in the northeast of Scotland, this song reminds me so much of that happily familiar area."
He also spoke of his "abiding passion" for songs written around the times of the First and Second World Wars, as they remind him of his "darling grandmother".
"Apart from the unstoppable rhythm which invariably raised my spirits and makes me feel happy. They remind me of my darling grandmother which makes me feel even happier." he shared.
Nicole Vassell is a London-based writer and features editor, with years of experience working in the publishing industry.
Since graduating with a Bachelor of Arts (BA) focused in English Literature with Creative Writing from the University of Surrey, her words have appeared in Gal Dem, woman&home, Metro, Glamour, and Digital Spy.
When she's not writing about who's dating and breaking up in the world of celebrities, she's watching RuPaul's Drag Race or thinking of ways to avoid going to the gym.