Prince Charles reveals the song that gives him an 'irresistible urge' to dance
The Prince of Wales has named some of his favorite pieces of music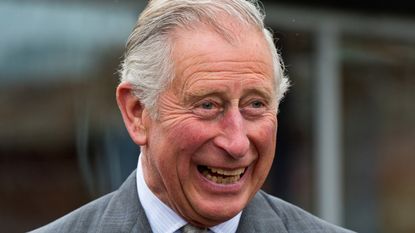 (Image credit: Photo by Ben A. Pruchnie - WPA Pool Getty Images)
Prince Charles has opened up about his favorite songs in a new interview, revealing the one that gives him an "irresistible urge" to dance.
The Prince of Wales spoke to the Hospital Broadcasting Association as part of national Thank You Day for key workers.
He revealed The Three Degrees' Givin' Up, Givin' In gives him an "irresistible urge" to dance.
---
To mark today's National Thank You Day for NHS staff and key workers, the Prince of Wales sat down for a recorded conversation with hospital radio, titled: Music and Memories With HRH The Prince Of Wales.
From disco (Upside Down - Diana Ross) to American standards (They Can't Take That Away From Me—Fred Astaire and Ginger Rogers) to a traditional South African celebration song (The Click Song - Miriam Makeba), the future king displays a wide range of musical interests.
But perhaps the most notable mention in the programme is the 1978 groover Givin' Up, Givin' In by Philadelphia band The Three Degrees—apparently, it's a song that used to give him an "irresistible urge to get up and dance", and was performed for him live at his 30th birthday.
The Three Degrees' lead singer Sheila Ferguson responded well to this mark of royal approval, tweeting that it was "lovely" for the song to have made the Prince's list of favourites.
Giving Up Giving in made the top of Prince Charles' list of favourites. How lovely. Mwah 💋Sxx 💗💗💗 https://t.co/NYvSe0bY5dJuly 4, 2021
See more
As well as memories of dancing, Prince Charles also revealed a particularly touching reason for adding Dick Powell's 1935 track Lulu's Back In Town to the list—it makes him happy because it reminds him of his grandmother.
The program is one of many events taking place to honor the people who kept the country going during the pandemic. Prince Charles spoke of his own appreciation of hospital radio staff and volunteers for keeping spirits high during a troubling period for many.
"During current times, when we have been dealing with the effect of this dreadful pandemic, the role of hospital radio has been even more important, and I know it has been of immeasurable value in connecting people, in providing comfort and companionship, and in raising people's spirits when that is needed," he said.
The Prince of Wales has shared his musical tastes with the public on several occasions in the past—in 2018, he revealed his love for Leonard Cohen's music in a programme on Radio 3, as well as telling Classic FM listeners about his favourite classical music in 2020.
The full list of Prince Charles' favourite songs includes:
Givin' Up, Givin' In—The Three Degrees
Don't Rain On My Parade—Barbra Streisand
La Vie En Rose—Edith Piaf
Upside Down—Diana Ross
The Voice—Eimear Quinn
The Click Song—Miriam Makeba
You're A Lady—Peter Skellern
La Mer—Charles Trenet
Bennachie—Old Blind Dogs
Lulu's Back In Town—Dick Powell
They Can't Take That Away From Me—Fred Astaire and Ginger Rogers
Tros Y Garreg/Crossing the Stone—Catrin Finch
Tydi a Roddaist—Bryn Terfel
The songs are now available to listen to on a playlist, head to Spotify to hear them all.
Nicole Vassell is a London-based writer and features editor, with years of experience working in the publishing industry.
Since graduating with a Bachelor of Arts (BA) focused in English Literature with Creative Writing from the University of Surrey, her words have appeared in Gal Dem, woman&home, Metro, Glamour, and Digital Spy.
When she's not writing about who's dating and breaking up in the world of celebrities, she's watching RuPaul's Drag Race or thinking of ways to avoid going to the gym.