Meghan Markle receives the cutest gifts for Archie during rare public outing at baseball game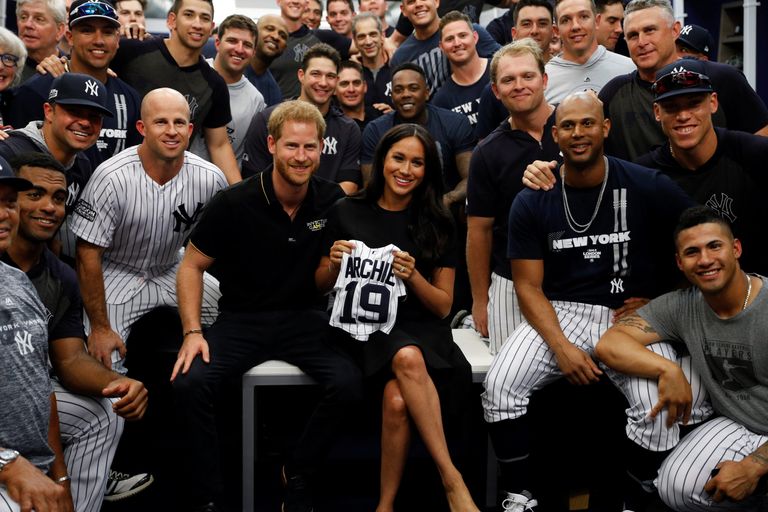 The Duchess of Sussex looked stunning in black today at the Boston Red Sox vs New York Yankees baseball game at the London Stadium at Queen Elizabeth Olympic Park.
The couple attended the game in support of Harry's charity, the Invictus Games Foundation, who have partnered with the MBL for the historic London Series.
Meghan Markle looked radiant in a Stella McCartney belted black dress and Aquazzura Deneuve ballet flats, accompanying her husband on the engagement, who proudly sported an Invictus games polo shirt.
The new mum has been laying low since Archie's birth on 6 May. While it was planned that the Duke of Sussex would make an appearance at the game, Meghan wasn't expected to attend.
The couple were seen embracing the Red Sox players, one of which is reported by the Boston Globe, to be the Duchess's distant cousin. Mookie Betts and Meghan reportedly share ancestry dating back 150 years to America's Deep South, according to an American genealogist. They claim that both Meghan and Mookie's relatives are from the same part of Alabama.
MORE:Details of Prince Harry and Meghan's upcoming tour have been revealed
Mookie and Meghan shared a joke regarding the link, with Mookie trying to explain that his "great, great, great.." family member was a relative. Meghan replied, "great, great, great..." before Mookie concluded, laughing, "we're family somehow!"
At this point Harry chipped in, asking the crowd, "does anyone else here want to claim to be family?"
Mookie told the Boston Globe last year, "I saw on television that they were getting married. But I had no idea we were related ... That'snot something you expect to hear, but it's interesting."
Harry and Meghan were delighted to be gifted a baby grow and mini bat for baby Archie from the Red Sox team. But the gifting didn't end there.
MORE:Inside Nottingham Cottage, Prince Harry and Meghan Markle's home
When the couple popped in to the Yankees changing room to wish them luck before the game, they also had a present for their little one - an adorable mini yankees jersey with the number 19 as a nod to the year of his birth.
For those wanting to copy Meghan's look, her Stella McCartney dress is currently sold out. Looks like the Meghan-effect is still going strong!
The former Olympic stadium is hosting two games between the New York Yankees and Boston Red Sox this Saturday and Sunday