Meghan Markle opens up on making TV shows with Prince Harry, 'we use love as a baseline'
Meghan Markle has said her love story with Prince Harry inspires their TV work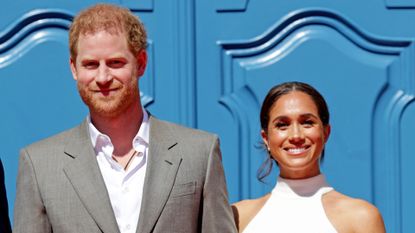 (Image credit: Getty)
Meghan Markle has opened up about her work with Prince Harry on Archewell, admitting that their love story is the inspiration behind their TV work together.
Meghan Markle revealed what inspires her and Harry when it comes to making documentaries and TV shows.
She also revealed how she 'misses rom-coms' and has watched When Harry met Sally 'a million times.'
In other royal news, this is Prince Harry's favourite US snack - and the store knows his order off by heart!
---
Prince Harry and Meghan Markle married in a gorgeous ceremony in Windsor back in 2018, and it's this fairytale love story that inspires the TV work they're planning with the organization they founded together, Archewell.
In a new interview with Variety, Meghan opened up about what she and Harry want from the shows they make together - and ultimately, it all comes down to love.
"So much of how my husband and I see things is through our love story," Meghan said. "I think that's what people around the world connected to, especially with our wedding."
She added, "People love love. I'm not excluded in that sentiment. And our definition of love is really expansive: Partner love, self-love, the love of community and family. We use that as the baseline of the kind of shows and documentaries we want out there."
And speaking about what inspires Prince Harry, Meghan explained, "For my husband, the Invictus Games have been such a huge piece of his life and his work, having been in the army for 10 years and working for the rehabilitation of wounded vets and their families. We talk about emotional injuries that come from those types of experiences. Those are love stories."
Meghan also shared that they don't want their projects to always be too serious - and she's a fan of a good old-fashioned rom-com!
"For scripted, we want to think about how we can evolve from that same space and do something fun! It doesn't always have to be so serious. Like a good rom-com. Don't we miss them? I miss them so much."
Revealing her favorite rom-com, she added, "I've probably watched "When Harry Met Sally" a million times. And all the Julia Roberts rom-coms. We need to see those again."
So is there anything she and Harry point blank refuse to do when it comes to the TV and film industry? "I don't think you'll ever see us doing a horror film," Meghan said. Fair enough!
Robyn is a celebrity and entertainment journalist and editor with over eight years experience in the industry. As well as contributing regular to woman&home, she also often writes for Woman, Woman's Own, Woman's Weekly and The Sun.