Meghan Markle debuts striking new look as she undertakes first engagement since quitting royal life
Meghan's revamped her look since stepping away from the monarchy...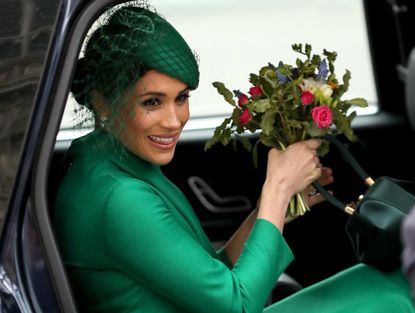 (Image credit: Getty Images)
Meghan Markle teamed up with Girl Up to join their 2020 Leadership Summit today.
The actress turned royal icon took part in the special engagement and made her first public speech since quitting royal life along with her husband, Prince Harry.
Meghan spoke live via video link from her LA home and looked strikingly different and seriously glamourous.
This royal news (opens in new tab) comes after the Duchess of Cambridge showed off a new haircut as she headed out (opens in new tab).
Meghan Markle debuted a strikingly gorgeous new look today when she took part in a special online engagement.
The Duchess of Sussex, who moved to Los Angeles with her husband Prince Harry and their one-year-old son Archie Harrison Mountbatten-Windsor earlier this year, appeared on a live stream as part of a pivotal global summit.
Meghan appeared via video call to make her first speech since quitting royal life as part of Girl Up's virtual conference.
Girl Up is an association operating in 120 countries and seeking to unite young female leaders asking for equality in wages, rights and living standards.
For the big public speaking role, which is one of the first appearances she's made since she and Prince Harry stepped back from their roles as senior members of the royal family, Meghan looked radiant, showing off impressively long and healthy looking locks.
Wearing her sleek tresses in a middle parted style, she opted for a glowingly radiant make-up look and proved she's no longer adhering to royal fashion rules as she bared her arms and shoulders in a chic blue outfit.
Speaking from her new LA home about the importance of young women coming together to support one another during the current climate, Meghan said, "Your generation is often referred to as digital natives, and you understand that our online world has the power to affirm and support as much as it does to harm. We are not meant to be breaking each other down; we are meant to be building each other up.
"So use your voice both on-and-offline to do just that – build each other up, support each other. There will always be negative voices and sometimes those voices can appear to be outsized, and sometimes they can appear to be painfully loud.
"You can and will use your own voices to drown out the noise. Because that's what it is - just noise. But your voices are those of truth. And hope. And your voices can and should be much louder."