Meghan Markle appears in new photo for Mother's Day as she's praised for being 'fierce advocate for those in need'
The Duchess of Sussex appears in a new photo to raise awareness for young parents in foster care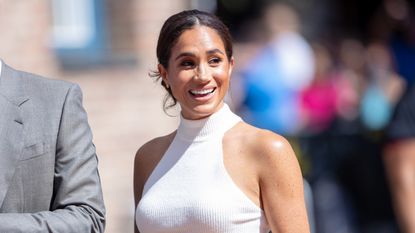 (Image credit: Joshua Sammer/Getty Images for Invictus Games Dusseldorf 2023)
As people celebrate Mother's Day, Meghan Markle is helping to shine the spotlight on the work, needs and services of young parents in foster care. Meghan appears in a new photo with the founder of the charity.
This Mother's Day, Meghan Markle has appeared in a new photo supporting the work for Alliance of Moms
Sporting one of the charities t-shirts, the charities co-founder praises Meghan for being a "fierce advocate"
---
This Mother's Day, while many moms across the country will be enjoying presents and quality time with their children, Meghan Markle has partnered up with a charity aimed at raising awareness for young parents in foster care.
The Duchess of Sussex, who has quit social media, appears in the Instagram snap alongside the Alliance of Moms co-founder, Kelly McKee Zajfen.
The Alliance of Moms is a community of philanthropists who support pregnant and parenting teens in Los Angeles' foster care system so that they can build a positive future for themselves and their children.
Meghan's support means the world to Kelly, who posted a heartfelt photo of the pair both wearing fundraising tee-shirts for the charity.
In her caption, Kelly praises Meghan for being a "fierce advocate" for "those in need."
She writes, "As Mother's Day approaches, I can't help but think of my own #commUNITY of Motherhood. I instantly think of you Meg. How incredibly nurturing and warm and open you are. What an incredible friend and mother. I'm truly in awe of you and I am so grateful you are part of my #CommUNITYofmotherhood."
The message continues, "You are always the first to say yes and support those you love. You are a fierce advocate for those who are in need."
"Thank you for joining this year's campaign to support LA's expectant and parenting foster youth, which helps provide critical services, education, resources and advocacy so they can build a better future for themselves and their families."
Meghan choosing to spotlight causes important to her on Mother's Day is something of a tradition now.
In the past, she and Prince Harry made a public donation to local charitable organization Harvest Home L.A. In addition to their donation, they supplied the non-profit charity with "diapers, cleaning supplies and other essential items" which were to be handed out to pregnant women and children.
The Duchess wrote an open letter alongside their donation, writing "As a mom, and an expectant mom, I deeply appreciate the significance of community support, safe and accessible pregnancy resources, and trusted guidance in a nurturing setting."
"These ingredients are essential to not just our physical health, but our mental well-being, and I commend you for leading a compassionate community that lives these values."
For all she's giving back, we have no doubt Prince Harry, Prince Archie and Princess Lilibet will spoil their mom today, too!
Jack Slater is not the Last Action Hero, but that's what comes up first when you Google him. Preferring a much more sedentary life, Jack gets his thrills by covering news, entertainment, celebrity, film and culture for woman&home, and other digital publications.
Having written for various print and online publications—ranging from national syndicates to niche magazines—Jack has written about nearly everything there is to write about, covering LGBTQ+ news, celebrity features, TV and film scoops, reviewing the latest theatre shows lighting up London's West End and the most pressing of SEO based stories.