Meghan Markle says it's 'very nice' to be back in the UK while urging people not to 'turn a blind eye' to global wrongdoings
The Duchess of Sussex delivered the speech at the One Young World Summit in Manchester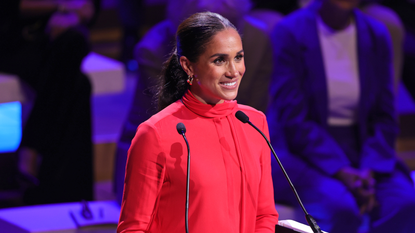 (Image credit: Chris Jackson / Staff)
In their third ever joint appearance within the UK since leaving royal life behind, Meghan Markle and Prince Harry attended the One Young World summit in Manchester, where the Duchess of Sussex delivered the keynote speech.
During the speech, Meghan discussed her relationship with One Young World, which seeks to connect young leaders across the globe.
The couple's appearance is part of a larger trip that the two are engaged in as private citizens.
Clearly referring to her family's decision to move to Los Angeles, Meghan started her speech saying, "It is very nice to be back in the UK and to be back with all of you."
After delving into her experience with the organization, a relationship that began in 2014 before Meghan even met Harry, the Duchess of Sussex used the time to speak about how becoming a wife and a mother changed her perspective on global affairs.
"My world view had expanded exponentially seeing the global community through the eyes of my child, and I asked, what is this world he would come to adopt, and what can I do to make it better?" she said publicly.
In her address, Meghan criticized those people used to "turning a blind eye" to the injustices occurring around the world.
One Young World co-founder Kate Robertson also spoke during the event. "There are some countries here that other organizations have chosen to ban or boycott," she said. "At One Young World we have chosen not to do so, because we recognize authoritarian figures do not represent the whole of their population, especially the young."
In that last bit, the co-founder was referring to the fact that young leaders from Russia and Belarus were allowed to attend the summit despite actions taken by their governments. What's more, Russia's flag was waved during the event's "flag parade," something that has not happened at other international events since the country first invaded Ukraine in February,
Harry and Meghan, who arrived in the UK this past Saturday, have been staying at Frogmore Cottage in Windsor. After having visited a number of charities throughout the past few days, albeit no longer representing the Queen or the monarchy but acting as mere private citizens, the couple is expected in Düsseldorf, Germany, tomorrow for an event celebrating Prince Harry's Invictus Games, which will take place there next year.
Although they are expected to be back in London by Thursday, they are not scheduled to meet with any members of the royal family throughout their journey.
Anna Rahmanan is a New York-based writer and editor who covers culture, entertainment, food, fashion and travel news. Anna's words have appeared on Time Out New York, the Huffington Post, Fortune, Forbes, Us Weekly, Bon Appetit and Brooklyn Magazine, among other outlets.