King Charles shares poignant tribute to Queen Elizabeth II on what would've been his mother's 97th birthday
King Charles and the Royal Family have honored the late Queen Elizabeth II today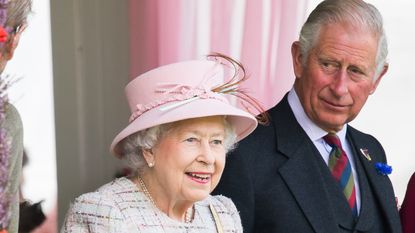 (Image credit: Getty Images)
King Charles and the Royal Family have shared a poignant tribute to mark what would've been the late Queen Elizabeth II's 97th birthday today.
A special tribute message was shared on the Royal Family's official social media platforms to mark what would've been the Queen's 97th birthday.
The moving message was posted along with a photograph of Her Majesty beaming during an appearance in Scotland, just months before she passed away.
In other royal news, the sign Princess Anne and Princess Charlotte are super alike has been revealed.
---
To mark what would've been Her Majesty Queen Elizabeth II's 97th birthday today, King Charles's official Royal Family social media accounts shared a moving tribute to his late mother.
The Queen passed away at Balmoral Castle on September 8th 2022 after reigning for over 70 years.
Following her death, her eldest son King Charles III took the throne, with the new monarch stepping up to become sovereign and moving Prince William into first place in the royal line of succession.
With King Charles's coronation set to see him officially crowned in just a matter of weeks, today he made sure to publicly honor his late mother on the day that would've seen her celebrate her 97th birthday.
Posting a lovely photograph of the Queen grinning during a visit to the Palace of Holyroodhouse in Edinburgh back in June 2022, the Royal Family accounts shared a message saying, "Today we remember the incredible life and legacy of Her Majesty Queen Elizabeth II, on what would have been her 97th birthday."
Sharing an insight into Queen Elizabeth's unexpected start to life as the beloved monarch the world remembers, the caption continued, "When Her Majesty was born in April 1926, Princess Elizabeth and her family did not expect that she would one day become Queen. Following the abdication of her uncle King Edward VIII in 1936, her father acceded to the throne."
Highlighting the incredible nature of the Queen's reign, which saw her mark her Platinum Jubilee with amazing celebrations last summer, the post added, "When King George VI died in February 1952, Princess Elizabeth became Queen Elizabeth II when she was just 25. Her Majesty went on to be Britain's longest reigning Monarch - the only one in history to celebrate a Platinum Jubilee."
With King Charles's May 6th coronation just around the corner, he is said to be preparing for the big day in an extravagant way, with detailed rehearsals taking place at Buckingham Palace.
Meanwhile, it has been confirmed that King Charles will follow in his mother's footsteps to keep a particularly 'sacred' part of the proceedings private, with the moment he is anointed with holy oil set to be kept away from the eyes of royal fans set to watch the coronation from all over the world.
And with Prince George's role at the coronation having been confirmed, it's been predicted that we could see Princess Charlotte take on her own unofficial role that could be just too cute for words as she steps into her big sister shoes to keep an eye on cheeky Prince Louis.
It's also been confirmed that Prince Harry will attend the coronation, however Meghan Markle will not.
After months of speculation over whether the Sussexes would attend the historic day, Buckingham Palace officials announced that while the Duke of Sussex will fly back to the UK for the proceedings, the Duchess of Sussex is set to remain in California with Prince Archie and Princess Lilibet.