King Charles's extravagant way of preparing for his coronation might surprise you
King Charles is preparing for his coronation by rehearsing in a special way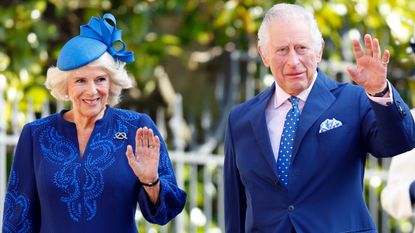 (Image credit: Getty Images)
King Charles is said to be preparing for his coronation with a very special way of rehearsing at Buckingham Palace.
With King Charles III's long-awaited coronation just weeks away, he is said to be making sure things go as smoothly as possible.
According to a royal expert, the new monarch has created a replica of Westminster Abbey at Buckingham Palace, in order to rehearse the fine details of the day in private.
---
King Charles is set to be officially crowned as King on May 6th, with royal fans around the world set to tune in to watch the highly-anticipated proceedings take place at Westminster Abbey.
While one 'sacred' part of the ceremony will be kept private, the world's eyes will be on King Charles and Queen Camilla as they are crowned, so it's not a surprise that the new sovereign is keen to get things right.
According to royal expert Jennie Bond, King Charles has taken his rehearsals to another level by creating a replica of Westminster Abbey at Buckingham Palace, in order to allow for private practise time ahead of the huge day.
Speaking to OK!, Jennie explained that Charles has created a "movie set" style scenario at the palace in order to perfect the finer details of the ceremony.
"It's a facsimile model of the altar at Westminster Abbey, built in Buckingham Palace - almost an exact copy of what is there, so King Charles and the rest of the family will be able to practise walking up and down the steps and sitting in the right place," Jennie told the publication.
"Of course, William's going to be involved in that as well. So there's a heck of a lot going on," she added.
"The replica has been built in the Ballroom, with the altar and exact copies of where all the things for the ceremony will go at Westminster Abbey," Jennie continued.
"The reason for building the 'set' is that officials then don't have to close the Abbey for lots of rehearsals. This will happen a fortnight before the ceremony, but nothing like with the Queen's coronation in 1953 when they closed it for something like six or eight weeks to get everything ready."
BREAKING: "Buckingham Palace is pleased to confirm that The Duke of Sussex will attend the Coronation Service at Westminster Abbey on May 6th. The Duchess of Sussex will remain in California with Prince Archie and Princess Lilibet."April 12, 2023
See more
This follows the news that Prince Harry will be in attendance at the coronation, after weeks of speculation over if the Sussexes would make an appearance on the day.
It was confirmed by palace officials that while the Duke of Sussex will make the journey to the UK for the coronation, Meghan Markle will remain in California with Prince Archie and Princess Lilibet, meaning Charles's two youngest grandchildren won't be there.