The 'sacred' part of King Charles's coronation that will be kept away from the cameras
There's a certain part of King Charles's coronation ceremony that won't be seen on screens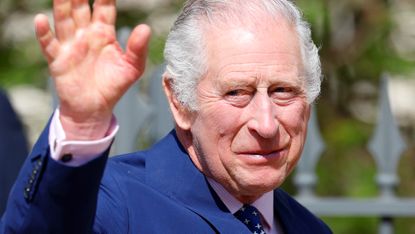 (Image credit: Getty Images)
There is a 'sacred' part of King Charles's coronation ceremony that won't be done in view of television cameras.
---
King Charles III is set to follow in the footsteps of his late mother, Queen Elizabeth II, when it comes to a particularly 'sacred' moment of his coronation ceremony.
The special service, which is set to take place at Westminster Abbey, will see the new monarch officially crowned as King, however the actual moment that Charles is anointed with holy oil by the Archbishop of Canterbury will be kept private.
Queen Elizabeth II's coronation in 1953 was the first of its kind to be aired on television, however the same moment was done away from cameras when she took the throne.
Despite speculation that King Charles may air the special moment in a stray from tradition, it's understood that he will stick to his mother's way of doing things and have the ritual performed privately, with Buckingham Palace confirming that television cameras won't be allowed to film it.
Queen Elizabeth kept the moment away from the eyes of the world by being anointed with the holy oil beneath a canopy.
Speaking on King Charles's decision to follow in his mother's footsteps, a royal source told The Times, "Precedent has never been for it to be a publicly viewable moment, given its sanctity. A way has been found to ensure that remains the case this time."
Meanwhile, another insider told The Mirror, "This is the most holy and sacred of the entire ceremony, where monarchs who have gone before have been upheld.
"The King takes his role and relationship with God extremely seriously and will continue with the anointing as it has been carried out before in full."