Kate's coronation outfit will 'set her apart from the crowd'
Royal expert suggests that Kate Middleton might move away from tradition and 'just surprise us' with her coronation outfit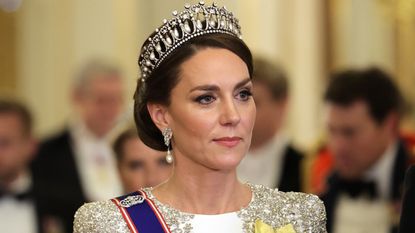 (Image credit: Photo by Chris Jackson/Getty Images)
Although Kate always stands out - whether given her natural beauty, charm or stellar fashion choices - devotees of the princess should expect her to truly make a splash come coronation day, with an outfit intended to 'surprise us,' according to a royal expert.
A royal expert suggests that Kate might move away from tradition and wear an unexpected designer during the coronation
The last Princess of Wales to attend a coronation was the future Queen Mary in 1902
Coronation day will be a big event in the life of the Princess of Wales, next in line to take over the Queen's role alongside her husband Prince William, but, according to Bethan Holt, royal expert and fashion director at the Daily Telegraph, fans should expect her to forego tradition and wear "something that sets her apart from the crowd," as she herself explained to PEOPLE.
"It's quite nice for her in a way that she can really make this her own, as every time she's on a tour, either the Queen or Diana has been there before - and there's an expectation," said Bethan, referring to the fact that the last Princess of Wales to attend a coronation was the future Queen Mary back in 1902.
Of course, most people expect Kate will wear something by her go-to designer Alexander McQueen, who also created her bridal gown back in 2011.
However, Bethan suggests that Kate will move away from tradition, which dictates she wear a full-length ivory gown, as "many rules have changed." As a result, "she might just surprise us!"
The fashion guru hopes to see Kate in something by "a younger designer or an unexpected name," perhaps even opting for the sorts of capes that she's be wont to don throughout the years.
"A cape would be amazing," Bethan said to the outlet. "She wore a beautiful Jenny Packham caped dress at a state banquet last autumn with jeweled detailing that would make a great template."
Lauren Kiehna of The Court Jeweller, a daily blog analyzing royal jewelry, also told PEOPLE that Kate's coronation outfit might even nod to her role as Princess of Wales through specific details. "The incorporation of symbolic jewelry, like Queen Alexandra's Three Feathers Brooch, or the inclusion of national symbols like the leek or daffodil embroidered on her dress, would be a lovely nod," she said.
Speaking of accessories, loads of rumors have been swirling about Kate's decision to wear a tiara or not.
A report in The Times just a week ago suggested that the future Queen had opted to wear a floral headpiece made of real flowers on the important day, perhaps as a way to pay homage to the various wildflowers featured on the coronation invitation.
"There will be some floral symbolism in her outfit of some kind for sure," posited Bethan.
Perhaps, said Bethan, Kate might decide to wear one of the six golden floral headpieces that Queen Elizabeth asked her maids to put on during her own ceremony back in 1953.
"That would be amazing if they've been preserved," said Bethan. "If not, then maybe a recreation of one would be really nice."
Whatever Kate will end up wearing, one thing is for sure: she's going to look strikingly beautiful.
Anna Rahmanan is a New York-based writer and editor who covers culture, entertainment, food, fashion and travel news. Anna's words have appeared on Time Out New York, the Huffington Post, Fortune, Forbes, Us Weekly, Bon Appetit and Brooklyn Magazine, among other outlets.