Kate Middleton's Christmas Day outfits—all the Duchess of Cambridge's most stunning festive looks from Christmases past
Kate Middleton's Christmas Day outfits have always wowed the crowds, but which was your favorite?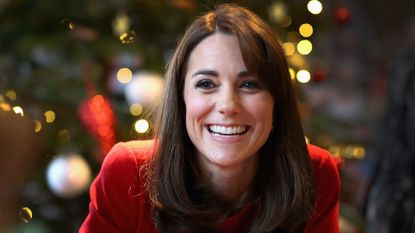 (Image credit: Photo by Chris Jackson - WPA Pool/Getty Images)
Kate Middleton's Christmas Day outfits consistently impress as fans wait to catch a glimpse of the royals on their walk to church, but everyone will have their favorite festive look.
The Duchess of Cambridge's Christmas looks throughout the years never fail to delight the waiting crowds in Sandringham.
Kate Middleton might not walk to church in Norfolk with the royals this Christmas, but we're sharing her wonderful outfits throughout the years.
---
Ever since Prince William and Kate Middleton married in 2011, the Duchess of Cambridge has been wowing fans with her timeless looks. Kate Middleton's dresses consistently serve as the ultimate style inspiration and with party season here many people will still be deciding on festive outfits. The Queen was expected to celebrate at Sandringham as she marks the first Christmas since Prince Philip's death. Sadly, it's now been announced that Her Majesty will remain at Windsor Castle.
Many of the Queen's children and grandchildren as well as the Queen's great-grandchildren were also predicted to join her and it's not yet known which of them might visit in Berkshire. Without the Christmas Day walk to church in Sandringham, however, it's unlikely fans will see what the Duchess of Cambridge wears this year.
Though that doesn't mean they can't enjoy reflecting on all Kate Middleton's Christmas Day outfits over the years—who else can't wait to see these stunning looks again?
Kate Middleton's Christmas Day outfits from Christmases past
Christmas 2019
Christmas Day in 2019 sadly marked the last time in recent years that royal fans have been able to gather in Sandringham to see the Royal Family on their walk to St Mary Magdalene Church. Though Kate Middleton's Christmas Day outfit for this occasion is perhaps one of her most memorable as the future Queen even appeared to coordinate with Princess Charlotte.
Favoring forest-green accessories that perfectly matched her daughter's coat, the Duchess' Catherine Walker coat featured furry cuffs and collar as well as stunning military-style buttons. This silver-gray tone couldn't be more perfect for the Duchess of Cambridge with its fit-and-flare shape and we hope to see this brought out again sometime in the future!
---
Christmas 2018
On Christmas Day 2018 it was a very festive cranberry red shade that the Duchess of Cambridge went for when it came to her outfit. Once again she looked beautiful in a military-style fit-and-flare velvet-trimmed Catherine Walker coat-dress, with her hair kept loose in waves around her shoulders. Kate Middleton's accessories also followed the crimson theme with a Jane Taylor velvet hairband and high-heeled pumps adding a classic yet fashionable additional dimension to the look.
---
Christmas 2017
Just months before the Sandringham Christmas celebrations in 2017, Prince William and Kate Middleton shared the news of her third pregnancy with fans. Pregnant with Prince Louis on Christmas Day, it's perhaps no surprise that she chose an especially warm and cosy-looking outfit. The Duchess of Cambridge wore a black, fluffy hat with matching gloves and tights, allowing her bright check patterned Miu Miu coat to do all the talking. Including shades of red and teal-green with what could even be a metallic thread running through it, this is one look that definitely spreads festive joy.
---
Christmas 2016
Anyone eagerly waiting in Norfolk hoping to catch a glimpse of the Duchess of Cambridge in 2016 were left very disappointed, as she spent the festivities with Prince William, Prince George, Princess Charlotte and the Middleton family in Berkshire that year. Nevertheless, Kate Middleton's Christmas Day outfit was pictured and her choice perhaps reflected the more relaxed Middleton family celebrations in 2016. This year the Duchess decided against wearing a hat, though her burgundy coat was typically classic and elegant.
She completed this look with a cranberry clutch bag that matched the faux fur trim design of the coat's neckline. This festive shade even coordinated with little Princess Charlotte's tights!
---
Christmas 2015
The Duchess of Cambridge stunned the excited crowds on Christmas Day in 2015 with a look that would've brilliantly complimented some of the best real Christmas trees. Featuring a stunning, almost leaf-shaped Lock & Co. Hatters hat, Sportmax wool coat, belt, gloves and dress all in jewel-toned emerald and forest green shades, Kate truly showed the world how to make the most of festive colors. The only contrasting accessory chosen by the Duchess for this yuletide occasion was her brooch which echoed the natural tones of the outfit with its acorn and leaf design.
---
Christmas 2014
In September 2014 the Duke and Duchess of Cambridge announced the wonderful news that they were expecting their second child, meaning Kate was pregnant with Princess Charlotte during the Sandringham festivities that year. Once again she maintained a great balance between keeping warm and looking beautifully fashion-forward.
The Duchess opted for a neutral color palette for her tweed, military-style Moloh coat, hat and gloves, all in shades of brown and beige. Eagle-eyed royal fans might just be able to spot what appears to be delicate bows on her gloves which tie into the bow design on her hat as a brilliantly coordinated outfit touch.
---
Christmas 2013
For Christmas 2013 Kate Middleton's Christmas Day outfit was a vision of blue and green tartan, paired with a matching green hat. Always a fan of a coat dress for special occasions, this fit-and-flair Alexander McQueen design was a wonderful choice for the Christmas Day church service with the extended Royal Family. Adding warmth as well as style, the Duchess' black knee-high boots subtly contrasted with the brighter wintery colors of the coat and perfectly coordinated with her gloves.
This Christmas fell the year she and Prince William welcomed their first child, Prince George, and was their first royal Christmas in two years as they chose to celebrate privately with the Middleton family in 2012.
---
Christmas 2011
Back in 2011 the December after her and Prince William's wedding, Kate Middleton's Christmas Day outfit wowed onlookers as she celebrated Christmas with the royals for the first time at Sandringham. That year the Duchess' 'frugal' Christmas gift for the Queen reportedly won the monarch's heart. But it was her mulberry-colored coat dress that really captured fans' imaginations.
With its sleek, formal shape and accessories in complimentary shades of purple, Kate's flair for simple elegance shone through, with the curled Jane Corbett hat design adding a touch of intricacy.
Whilst fans might not get to see Kate Middleton's Christmas outfit on the Sandringham walk this year, many will no doubt be eager to see what the future Queen might pull out of her closet for 2022's festivities...