Kate Middleton and Prince William's child that 'doting' grandfather King Charles shows most 'affection' to
'Doting' grandfather King Charles is said to be most affectionate to one royal child in particular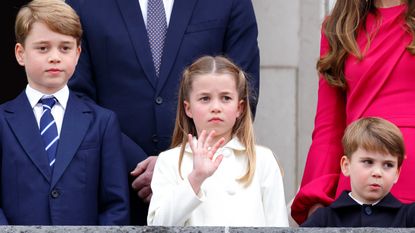 (Image credit: Getty Images)
'Doting' grandfather King Charles is most affectionate with one of his grandchildren in particular, according to a body language expert.
---
King Charles is a proud grandpa to the children of his sons, Prince William and Prince Harry, with their marriages to Kate Middleton and Meghan Markle bringing Prince George, Princess Charlotte, Prince Louis, Archie and Lilibet into the world.
While the monarch, who took the throne in September last year following the death of the late Queen Elizabeth II at Balmoral Castle, adores all five of his grandchildren, a body language expert has pointed out that he seemingly shares a special affectionate bond with one in particular.
Following the utterly adorable moment Prince Louis perched himself on King Charles' lap at the Queen's Platinum Jubilee celebrations last summer, body language pro Judi James says that little Louis' cheeky nature really brings out Charles' sweet side.
"Like most grandparents, Charles probably dotes on all his grandchildren, even the ones he doesn't get to see," Judi told the Express.
Suggesting that the youngest of Kate and William's brood reminds the King of his own youngest son, she added, "Louis seems to have been named after Charles's much-adored uncle Louis Mountbatten but he seems to have inherited his cheeky, spontaneously playful and affectionate traits from his own uncle, Harry."
Adding that Zara Tindall is another member of the family who is tactile and loving with Charles, Judi continued, "Zara Tindall has always been relaxed and hugely demonstrative with uncle Charles in public and Charles clearly adores being on the receiving end of her hugs and very affectionate displays.
"Louis looks like the other member of the family that treats Charles just like any other grandpa, no matter who and how many cameras are watching."
Highlighting that the relaxed and playful behavior that Louis exhibits around his grandpa allows Charles to be openly affectionate with him, Judi explained, "As a result, both Zara and Louis bring out some of the best body language in Charles, with Louis in particular able to give the King the gift of looking openly affectionate and more down-to-earth than normal."