Inside Mustique and Les Jolies Eaux, Princess Margaret's private island which welcomed celebrities, criminals and scandal alike
Princess Margaret was said to have found peace and happiness at Mustique, but how did she come to own land in the Caribbean?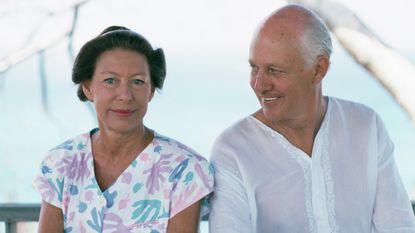 (Image credit: Anwar Hussein/Getty Images)
The Queen only visited three times, which might have been a sign of her looking the other way, fully aware that Mustique was where Princess Margaret, the royal rebel, lived up to her reputation. From guests with X-rated party tricks to scandalous affairs, Margaret helped give Mustique the reputation of a hedonistic hideaway for the rich and famous.
Princess Margaret's reputation for living an extravagant life is well known, and owning a private section of land on her own island only amplifies this image
Many quote Margaret as saying Mustique was "the only place I can relax" – and she was known to throw wild parties with huge celebrities (and younger lovers)
---
The original royal rebel who had the sort of extravagant lifestyle most can only associate with TV shows or movies, Princess Margaret was known for being equal parts tough, glamorous and free-spirited.
While many stories focus on Margaret's decadent routines and penchant for being rude (even to fashion icons), there was a place it's thought Margaret truly relaxed and could be herself: Mustique, the private island where she owned acres of land.
Where is Mustique?
Mustique lies in the stream of islands of St Vincent and the Grenadines, only about 100 miles west of Barbados.
Famed for a gentle climate, dramatic hilltops and pristine beaches, Margaret helped cement the island as a destination for the rich and famous from the 1970s.
Mustique was purchased from the Hazell family in 1958 for £45,000 by Colin Tennant, who became The 3rd Baron Glenconner in 1983.
He initially planned to start farming, "sea island cotton, beef and mutton" but then decided to develop the island into an exclusive hideaway, after forming The Mustique Company in 1968.
How did Princess Margaret come to own Mustique and who owns it now?
In 1960, Princess Margaret accepted a wedding present from Colin Tennant - a 10-acre (40,000 m2) plot of land on Mustique.
On it, she built a villa called Les Jolies Eaux (the beautiful waters).
Standing dramatically on a private peninsula at Mustique's southern tip, her legendary villa was previously featured in Architectural Digest and was designed specifically for her by Oliver Messel in 1971.
Before her death, the princess gave the property to her son David Armstrong-Jones, Viscount Linley to avoid later payment of inheritance tax. He sold it in 1999 for around $2.9 million.
Today, Les Jolies Eaux can be rented for around $44,500 a week.
How Mustique played into one of Margaret's biggest scandals
Mustique became better known by the general public after it played out as the location for Margaret's affair in 1976.
Margaret jetted there with Roddy Llewellyn, who was 17 years her junior, causing yet another tabloid frenzy for the rebellious princess.
"I was just following my heart," Roddy later said of their eight-year tryst, which was exposed when paparazzi took photos of them swimming in the sea together – him sporting a pair of Union Jack trunks.
Who were some of the Mustique regulars?
Princess Margaret was renowned for mingling in, shall we say, mixed circles.
From prestigious royals to bohemian artists, she found a way to mix high and low, traditional and modern.
This was best represented in her Mustique years, and the crowd who became regular visitors to the island.
One of the most notorious guests was one who also claimed to have had an affair with the Princess. Though never confirmed, many biographers have covered Margaret's connection to one John Bindon, described by Theo Aronson as "an East Ender with a criminal record who visited the island on a couple of occasions."
He was convicted of "malicious damage" and "possession of live ammunition" as a child.
While he had more run ins with the law as an adult, and he claimed to have had photos proving he had a fling with Margaret, this interesting personality is best known for a party trick which would be most unwelcome at Buckingham Palace.
For John Bindon seemed to make a name for himself at parties on Mustique by balancing "three half-pint glasses on his erect penis."
Other guests who became regular fixtures on the scene included David Bowie and Mick Jagger.
Jack Slater is not the Last Action Hero, but that's what comes up first when you Google him. Preferring a much more sedentary life, Jack gets his thrills by covering news, entertainment, celebrity, film and culture for woman&home, and other digital publications.
Having written for various print and online publications—ranging from national syndicates to niche magazines—Jack has written about nearly everything there is to write about, covering LGBTQ+ news, celebrity features, TV and film scoops, reviewing the latest theatre shows lighting up London's West End and the most pressing of SEO based stories.