Which royal bride wore the most expensive tiara on their big day? The answer might surprise you, but their reason for choosing it is heart-warming
Despite Kate Middleton and Meghan Markle's weddings being more high profile, another royal bride's tiara outvalues them all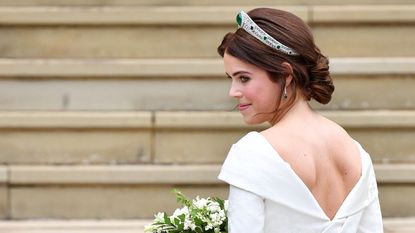 (Image credit: Max Mumby/Getty Images)
Princess Eugenie's wedding day tiara is the most expensive worn in history, according to new research. Eugenie had the rare honor of wearing the Greville Emerald Kokoshnik tiara, something which no member of the Royal Family had worn in public before her wedding day. With an estimated worth of $12.2M, the true value was sentimental for Eugenie, who wore it as her something borrowed from her grandmother, the Queen.
Princess Eugenie wore the most valuable tiara out of all the royal brides
Eugenie's tiara, the Greville Emerald Kokoshnik, is worth an estimated $12.2M, and it was the first time a member of the Royal Family had worn it in public
---
Though she and her sister, Beatrice, might not have a role in King Charles' Coronation, Princess Eugenie has made history before.
Not only was she the first member of the Royal Family to publicly wear the Greville Emerald Kokoshnik tiara, in doing so, she set the record for the most valuable tiara worn by a royal bride.
Princess Eugenie - who wore a tiara for the very first time on her wedding to Jack Brooksbank in 2018 - really made her first time memorable.
She wore the Greville Emerald Kokoshnik tiara, which is made of rose-cut pave diamonds, set in platinum, and adorned with six emeralds. The center features a 93.7 carat cabochon-cut emerald.
Leading Diamond Expert, Maxwell Stone of Steven Stone, told woman&home, "The Greville Emerald Kokoshnik tiara is… estimated to be worth $12.2M (approx. £10M), making it the most expensive of all the tiaras we've studied."
For comparison, the Cambridge Lover's Knot Tiara worn by Kate Middleton is thought to be worth around $1M, and Meghan's Art Deco-style bandeau tiara is estimated at around $2.4M.
Another curious detail around Eugenie's tiara was that it was one of the rare bridal headpieces to feature colored gems.
Maxwell Stone explains, "Wearing emeralds is said to promote friendship, peace, harmony, and domestic bliss by enabling the wearer to both give and receive unconditional love. In ancient Greece and Rome, emerald was said to be the gemstone of the goddess of love, Venus, which is perfectly fitting for a royal bride."
The first Royal Family member to wear it in public, the Queen lent it to Princess Eugenie for her big day – "making it the most extravagant 'something borrowed' in royal history."
The history of the Greville Emerald Kokoshnik
The Greville Emerald Kokoshnik tiara was so named because it was originally created by Parisian jewelry house Boucheron for British socialite Dame Margaret Greville in 1919, and because it was modeled after the fashionable kokoshnik style made popular by the Russian Imperial Court in the early 20th century.
Greville was close with the royal family, and left the bandeau tiara to Elizabeth, the Queen Mother, upon her death in 1942.
When the Queen Mother passed in 2002, the emerald tiara was bequeathed to the late Queen Elizabeth II.
By publicly wearing the diadem for the first time, Eugenie also helped revive a dormant trend for high fashion jewelry.
Chanel introduced two new kokoshnik-shaped tiaras into its pre-eminent collection the following year.
The Sarafane was a diamond-and-pearl headpiece that can transition into a necklace.
The Ble Maria tiara, a modified kokoshnik comprised of yellow gold, pink spinel gems, Mandarin garnets and colored tourmalines, also showed a clear inspiration.
Jack Slater is not the Last Action Hero, but that's what comes up first when you Google him. Preferring a much more sedentary life, Jack gets his thrills by covering news, entertainment, celebrity, film and culture for woman&home, and other digital publications.
Having written for various print and online publications—ranging from national syndicates to niche magazines—Jack has written about nearly everything there is to write about, covering LGBTQ+ news, celebrity features, TV and film scoops, reviewing the latest theatre shows lighting up London's West End and the most pressing of SEO based stories.