Hear Prince George, Princess Charlotte and Prince Louis speak on camera in special new video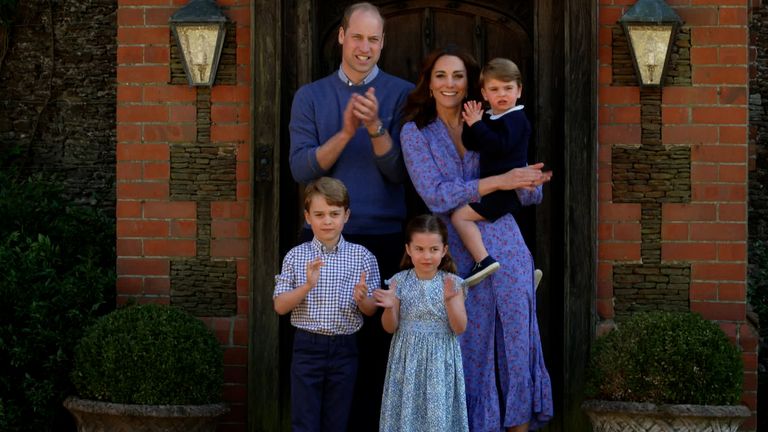 (Image credit: BBC Children in Need/Comic Relie)
Prince George, Princess Charlotte and Prince Louis have made their first on-camera appearance as they take part in a special Q&A with David Attenborough.
The Duke and Duchess of Cambridge's three children ask David Attenborough a string of nature questions
The three children reveal their sweet voices in the new video
Royal fans are delighted to hear Prince George, Princess Charlotte and Prince Louis' voices as they take part in a Q&A with David Attenborough.
The Duke and Duchess of Cambridge released the special video on Saturday, in which the kids each take it in turns to quiz David Attenborough on questions about the natural world.
As the eldest, Prince George is up first and politely introduces himself to David Attenborough, saying, "Hello David Attenborough, what animal do you think will become extinct next?"
Up next is Princess Charlotte, who bravely declares she likes spiders. She says, "Hello David Attenborough, I like spiders, do you like spiders too?"
Prince Louis follows, melting hearts as he excitedly asks, "What animal do you like?"
It's the first time royal fans have ever heard sweet Prince Louis, two, speak and the most Prince George, seven, and Princess Charlotte, five, have ever been heard.
And it has delighted fans, with them branding the video "cuteness overload".
One royal fan said, "It's so nice to hear their voices! Cuteness overload!!"
While another commented, "Oh my heart. What great questions, such curiosity, and beautiful children! Sir David is a blessing to us all."
A third said, "Charlotte sounds just like her mum!"
The sweet video comes after Sir David Attenborough joined The Duke for an outdoor screening of Sir David's upcoming feature film "David Attenborough: A Life On Our Planet".
On the Royal's Instagram page it said they shared a passion for protecting the natural world and will "continue to support one another in their missions to tackle some of the biggest environmental challenges our planet faces."
What an iconic duo!
Georgia studied Print Journalism at university in Nottingham, England before going on to work on several leading celebrity magazines, as well as freelance writing for international magazine Grazia Middle East. An enthusiastic, hard-working and ambitious writer, Georgia recently launched her own communications consultancy, farq media. As Director and Founder, Georgia helps businesses with their Public Relations strategy, as well as influencer and celebrity marketing. She also represents several influencers of her own. She lives with this motto in mind; "if your dreams don't scare you, they aren't big enough."