Kate Middleton wore a dress which is kind to the planet to meet David Attenborough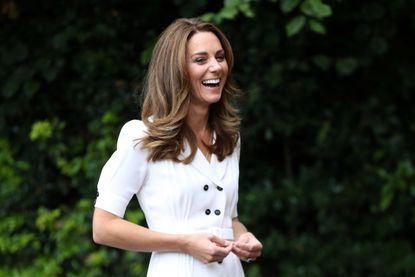 (Image credit: PA)
The Duchess of Cambridge wore a planet-friendly outfit to meet our favourite naturalist.
The Duke and Duchess of Cambridge had David Attenborough in Kensington Palace Gardens for a preview of his latest documentary film.
Kate wore a recycled denim dress and Pangolin earrings.
In other royal news, Prince Charles and Camilla, Duchess of Cornwallhave been spotted out wearing a pair of uniquereusable face masksto show their support towards a special cause.
Over the weekend, Kate Middleton, Prince William and their three children met with naturalist David Attenborough, in Kensington Palace gardensfor a screening of Attenborough's upcoming documentary film,David Attenborough: A Life on Our Planet.
On the Royal's Instagram page it said they shared a passion for protecting the natural world and will "continue to support one another in their missions to tackle some of the biggest environmental challenges our planet faces."
Kate Middleton took this opportunity to amplify the message of protecting the planet by wearing a sustainable dress. Kate's outfit choices are always carefully considered according to where she is and who she is meeting and this time, she couldn't have done better.
The belted denim shirt dress by Gabriela Hearst is crafted from repurposed denim and is a chic and smart option for the current change in seasons.
Gabriela is a New York designer who was the first person ever to stage a carbon-neutral runway show. She is also working towards using 80 per cent deadstock in her designs and by 2022 wishes to eliminate all virgin materials from her brand. She is a true pioneer in her field — one which is known for not being too kind to the planet.
Kate paired the dress withPatrick Mavros silver earrings (opens in new tab), the jewellery brand brings "the beauty of Africa to the world through extraordinary jewellery", which seems very fitting too.
The dress retails at £1295, but, you guessed it...is sold out in most places! It's the Kate effect. But Gabriela has lots of similar and still environmentally conscious dresses that are in stock. We suggest trying the Jane, Claudia, or Vera!
Rachel is a freelance contributor to woman&home, covering news as well as books, lifestyle and travel. Her byline has also appeared in The Independent, The Financial Times, ELLE Magazine, VICE, Glamour Magazine and others. She loves nothing more than talking with people to share their stories. When she is not writing you will definitely find her nose in a book or magazine, or perhaps training for the next half marathon, practicing yoga or eating in London's best restaurants.