First glimpse at Princess Diana in The Crown season four
She looks just as beautiful as we'd expect...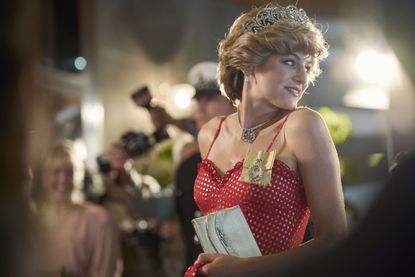 (Image credit: Netflix)
If you're anything like us, we have been eagerly awaiting to see how Princess Diana is going to look in the new series of Netflix's The Crown.
The new series of Netflix's The Crown finally sees the introduction of Princess Diana.
Yesterday, pictures were released showing Emma Corrin playing the part and looking scarily similar to the late Princess.
In other royal news, Princess Eugenie won't accept a royal title for her baby.
Played by Emma Corrin, the 24-year-old Cambridge graduate from Tunbridge Wells, it is actually rather spooky how alike the actress looks to the late Princess of Wales.
In an interview with Vogue Emma said, "I feel I've got to know Diana like you would a friend.
MORE:The Crown's creator says parallels between Meghan Markle and Princess Diana are 'obvious'
"I know that sounds really weird, but I get a great sense of companionship from her. I suppose, over time, you kind of start to patch together a sense of empathy and a sense of understanding. I love figuring people out."
Ahead of the new series' release in November, Netflix has shared a number of images from the filming. In one shot, Diana arrives at a red carpet event in a strapless purple gown with Prince Charles. In another photo, she is having a talk with Camilla Parker Bowles and in the final, she is wearing a beautiful yellow suit while being hounded by paparazzi.
Last month, Netflix released a teaser for season four, where we got to see Diana's famous wedding dress from 1981. The Emanuels, who designed the original dress gave The Crown the patterns, so they were able to make an exact copy for Emma.
We also see the back of her and her iconic bob stepping out of her flat on Old Brompton Road, where she lived before her engagement, into the masses of paparazzi.
MORE:How Prince Harry has fulfilled Princess Diana's wishes as he hits milestone
Olivia Coleman will once again play The Queen,Helena Bonham Carterand Tobias Menzies will continue asPrincess Margaret and Prince Philip.
Josh O'Connor will return as Prince Charles, whileErin Dohertyand Emerald Fennell will continue to portrayPrincess Anne and Camilla, respectively. But the introduction of Diana has been exciting everyone the most, as the producers and directors of the show have been known to not hold back on somewhat exposing the ins and outs of the most famous family in the world.
The Crown Season 4 will launch on Netflix on Sunday 15th November.
Will you be watching?
Rachel is a freelance contributor to woman&home, covering news as well as books, lifestyle and travel. Her byline has also appeared in The Independent, The Financial Times, ELLE Magazine, VICE, Glamour Magazine and others. She loves nothing more than talking with people to share their stories. When she is not writing you will definitely find her nose in a book or magazine, or perhaps training for the next half marathon, practicing yoga or eating in London's best restaurants.