The Crown's creator says parallels between Meghan Markle and Princess Diana are "obvious"
This is so insightful..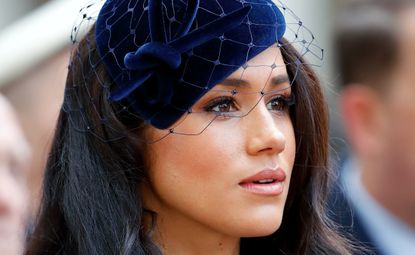 (Image credit: Getty Images)
Prince Harry has previously spoken out about a link between his mother and his wife, albeit in a sad way, "I lost my mother and now I watch my wife falling victim to the same powerful forces." But now someone else has confirmed their similarities, too...
The Crown creator Peter Morgan says it's impossible not to see the parallels between Meghan Markle and Princess Diana.
Speaking to Vanity Fair he spoke of their failure to be accepted by the royals.
In other royal news, Prince William and Duchess Catherine gush over koala bear in an adorable video.
As we eagerly await the fourth series of The Crown, which includes the introduction of Princess Diana, the creator of the series was asked to comment in a recent interview with Vanity Fair about the real-life events involving the monarchy.
Peter Morgan implied a contrast between Meghan and Kate's assimilation in the royal family.
MORE:First glimpse at Princess Diana in The Crown season four
"Really, the only version of events that works is if somebody comes in and becomes invisible, and just sort of knuckles down to a lifetime of agreeable supplicancy to the duties of the crown," he said. Continuing, "Diana struggled to fit in with the institution in a way that it's impossible not to see the parallels with Meghan Markle and Harry. So the story feels both incredibly vivid historically, but also it really shines a lot of lights on where we are now."
However, Peter did say he didn't wish to dwell on recent events concerning Prince Andrew's involvement with peadophile Jeffrey Epstein and the Sussexes' departure from the monarchy.
"If you draw too many intentional parallels, it actually becomes quite ugly", he said.
But continuing, "when you see a beautiful young princess struggling to find love and acceptance within the family, the parallels are obvious and the parallels write themselves."
Peter said Diana is "an extraordinary character." The series will allow us to meet her in 1977, at aged 16, before she became a member of the family and was living with her friends. We get taken right up to her and Prince Charles' eventual divorce.
Emma Corrin, who plays Diana, also told Vanity Fair, "you really see her turn from a girl into a woman… We see her before she goes into the palace when she is living with her flatmates, and how normal she was before she was plucked from obscurity. Obviously, there was a tragic strain throughout her life, which you feel very much in the series. She had so much heartbreak, loss, and loneliness, but Patrick [Diana's private secretary, Patrick Jephson] said that her natural inclination was towards happiness."
Rachel is a freelance contributor to woman&home, covering news as well as books, lifestyle and travel. Her byline has also appeared in The Independent, The Financial Times, ELLE Magazine, VICE, Glamour Magazine and others. She loves nothing more than talking with people to share their stories. When she is not writing you will definitely find her nose in a book or magazine, or perhaps training for the next half marathon, practicing yoga or eating in London's best restaurants.