Prince William and Duchess Catherine reveal sweet details of secret night out
Aw!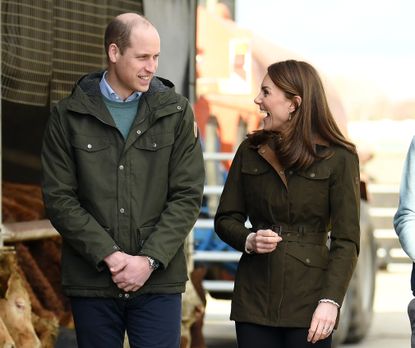 (Image credit: Getty)
The Duke of Cambridge revealed some sweet details about a secret night out that he and his wife, the Duchess of Cambridge enjoyed together.
The royal couple spent the past week on their official royal tour of Ireland, making a stop off in the west coast city of Galway.
The pair paid a visit to a bar and restaurant called Tribeton, where they were treated to performances from local talent.
As they watched some impressive tricks put on by the Galway Community Circus, Prince William tried his hand at juggling, proving he's got a knack for the skill.
While on the topic of circus tricks, Duchess Catherine mentioned her daughter Princess Charlotte's love for gymnastics.
"Charlotte is really into gymnastics, she's doing cartwheels, handstands, everything. It's so good for their basic skills of balance and coordination," she said.
Prince William then chipped in, spilling the beans on one of his and Duchess Catherine's nights out, saying, "And their flexibility, it's really good for their long-term health, isn't it? We went to watch the Cirque du Soleil recently, it was amazing."
The iconic Cirque du Soleil, which features extraordinary acrobatic stunts, recently finished a stint at the Royal Albert Hall, which is very close to the Cambridge's Kensington Palace home.
While it's likely that the Duke and Duchess may have spent a romantic evening out watching the show together, they may have attended with their little ones, Prince George, six and Princess Charlotte, four.
We would imagine their third son Prince Louis would be too young to enjoy the show at just one-year-old, though.
Either way, it sounds like the Cambridge family have lots of fun in their spare time.