Duchess of Cambridge surprises new mum by virtually visiting NHS maternity unit
The video call was ahead of Maternal Mental Health Awareness Week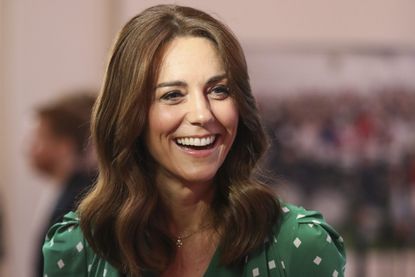 The Duchess of Cambridge made a virtual visit to a NHS maternity ward, to check on new mums and dads.
Yesterday, Kate Middleton video called new parents and midwives at Kingston Hospital - where she previously spent two days on a work placement.
The duchess spoke to Rebecca Attwood and John Gill - just hours after they welcomed their baby son Max.
The Kensington Royal Instagram pagehas shared footage of the video chat, with the caption, 'The Duchess of Cambridge has spoken with midwives, health visitors, parents and leading sector experts about the challenges and impact that COVID-19 is having on new and expectant mothers and their families.'
In the video, the duchess says to Rebecca, 'He is so sweet. Ah, congratulations! When did you have him?'
The new mum explains that Max arrived at 10pm the previous night, to which the royal replies, 'My goodness, you must be exhausted.'
Speaking after the experience, Rebecca said, 'Having a surprise conversation with the Duchess of Cambridge after two hours' sleep was particularly surreal. The Duchess asked us about having a baby at such an unusual time, and our experience on the maternity ward was that all the midwives made it as normal as possible – apart from the masks!'
The duchess also asked midwives how staff were coping with anxious mums coming into hospital during the pandemic.
Jo Doumouchtsi, Perinatal Mental Health Midwife, said, 'The main issues that women are having at the moment really are around coming into hospital and worries about catching COVID, but also about the isolation after the baby is born.
'They have to self-isolate, so they are having limited support from their other family members.
'We are finding that there's women that have no mental health history that are actually becoming incredibly anxious because of the situation currently.
'So we're having a lot more referrals which are specifically around anxiety to do with COVID.'
Her virtual visit was held ahead of Maternal Mental Health Awareness Week, which starts tomorrow.
Lizzie Thomson is a regular contributor to woman&home, and also contributes to Metro.co.uk, Ideal Home, Culture Trip, and Evening Standard, covering all things lifestyle.