Duchess Catherine melts hearts with news of Prince Louis' charity baking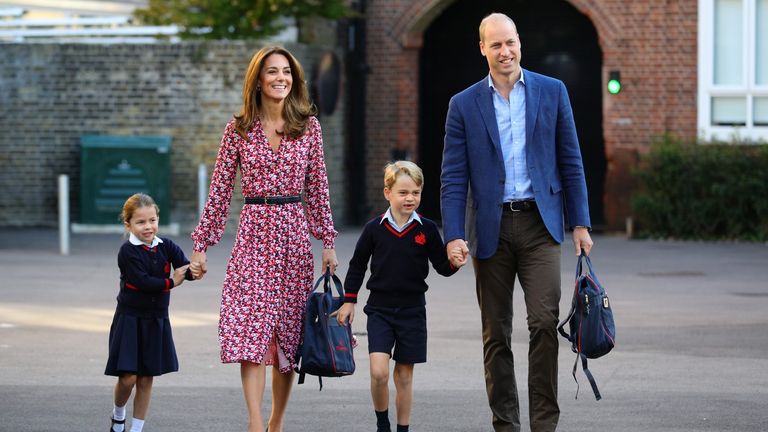 The Duke and Duchess of Cambridge have shown their support for the Royal British Legion by baking poppy cupcakes.
Prince William and Duchess Catherine have been busy baking along with their three children - Prince George, Princess Charlotte and Prince Louis - for the residents at a care home in Norfolk
A photograph of their cakes has been shared on Kensington Royal's Instagram account
The Duke and Duchess of Cambridge melted hearts as they revealed the results of their kids' baking efforts on Monday.
Prince William and Duchess Catherine publicly showed their support for the Royal British Legion by baking poppy cupcakes and delivering them to a care home in Norfolk.
A photograph of the cakes was shared on the couples' official Instagram account and the caption read, "From The Duke and Duchess of Cambridge to the Royal British Legion: Repost @royalbritishlegion The Duke and Duchess of Cambridge and their family have shown their support for our Poppy Appeal this year by baking poppy cakes! These delicious cakes were delivered to residents at our care home in Norfolk.
"Visit @royalbritishlegionto find out how you can support the#poppyappeal this year. #everypoppycounts."
The snap melted the hearts of royal fans as it's been previously revealed that the couple's youngest son, Prince Louis, is a keen baker and a big fan of Great British Bake Off legend, Mary Berry.
"Prince Louis likes nothing better than to check on Mary Berry cookbooks," an insider told The Sun.
"He loves the pictures, points out all the things he wants to eat, with The Very Chocolate Cake, Plum Crumble seeming to be hot favourites, and fruit scones being a must.
"Whenever he sees Mary on the television, he whoops and claps his hands."
So we (and other royal fans) are convinced Prince Louis was keen to help bake these special cakes. "Delicious, I wish I could see the little princes working in the kitchen baking," wrote one royal fan.
Others were delighted with how wholesome the Cambridge family are: "Don't you just love the wonderful Cambridge family," said another fan. While a third said, "What an incredible sweet gesture."
It's not the first time Catherine and William have joined forces for a spot of baking, as last Christmas they made a special appearance on A Berry Royal Christmas with Mary Berry. And these poppy cakes transported fans right back to that special moment.
"Reminds me of the Christmas baking show," pointed out one fan. "William's frosting skills have improved."
They sure have!
Georgia studied Print Journalism at university in Nottingham, England before going on to work on several leading celebrity magazines, as well as freelance writing for international magazine Grazia Middle East. An enthusiastic, hard-working and ambitious writer, Georgia recently launched her own communications consultancy, farq media. As Director and Founder, Georgia helps businesses with their Public Relations strategy, as well as influencer and celebrity marketing. She also represents several influencers of her own. She lives with this motto in mind; "if your dreams don't scare you, they aren't big enough."