Carole Middleton follows in Kate and Prince William's footsteps with royalty inspired career move
Carole Middleton's new royal inspired business venture has impressed fans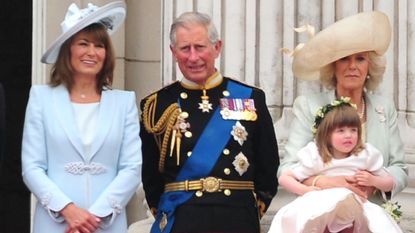 (Image credit: Photo by James Devaney/FilmMagic/Getty Images)
Carole Middleton has launched a special new business venture seemingly inspired by her links to the royal family and the passions of her daughter and grandkids.
---
Carole has seemingly been inspired by her eco-focussed daughter, son-in-law and eldest grandson, Prince George, to create a new party range with proceeds set to benefit the environment.
With Prince William and Kate Middleton, who live in Kensington Palace in London, making environmental work a huge part of their royal efforts, it was revealed last year that Prince George is growing up to have a big interest in saving the planet too.
As part of his work for the Earthshot Prize 2021, William shared details of future King, Prince George, and his frustrations over littering.
Now, George's grandma has incorporated some green thinking into her own business ventures.
Taking to Instagram, Carole shared a statement to announce the collaboration between Party Pieces and Big Blue Ocean Cleanup, explaining that the sustainably-sourced products for kids' parties have been named in honor of her royal links.
"Today, we are excited to launch our two NEW own-brand sustainably-sourced kids' party ranges: King and Queen of the Sea. Our magical under-the-sea ranges are 100% eco-friendly and recyclable or reusable with proceeds benefiting @bigblueoceancleanup," the social media post explained.
"I am excited to be supporting the incredible work that Big Blue Ocean Cleanup does to protect our oceans.
"At Party Pieces we want to make it easier for people to celebrate consciously - our new sustainably-sourced ranges help to protect the planet without compromising on the magic of parties," Carole added.