Wordle 663 infuriates players with British spelling 'I ruled that out because it's not the American spelling!'
Wordle 663 - the latest challenge from the New York Times has confused a number of players by using a British spelling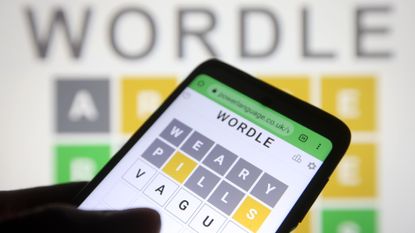 (Image credit: Getty)
Wordle 663 has stumped a number of players who struggled to work out the tricky challenge set by the New York Times on Thursday, April 13, 2023.
Wordle players have been totally stumped by yet another tricky five-letter word as the game makers at the New York Times challenged players to solve a word that is tricky to spell for some.
And this isn't the first time players have been thrown a curveball - as words such as; guano, riper, and qualm have caused a lot of frustration for fans in the past. However, today's challenge on April 13, has posed a particularly hard challenge for fans, with many complaining that it's not an everyday word.
Warning! There are spoilers ahead! So if you don't want to know what the answer is, please click away!
The answer to the Wordle challenge on Thursday, April 13 is 'carat'. The word divided fans by using the British spelling of the word, rather than 'karat', the US spelling.
"Wordle fail. Spelling trap," said one player. "Not easy today," said another.
Another player slated the New York Times for not using US spellings, commenting, "I don't think the American @nytimes should be using the British spelling of words for their puzzles."
Another added, "Damn! I was assuming US spelling." While a further user wrote, "Oh, come on! I actively ruled that out because it's not the American spelling!"
Carat meaning
Many players struggled with today's challenge because they were simply unfamiliar with the spelling of carat. But the word is not particularly common in everyday life, so what does the word carat mean?
According to the Merriam-Webster dictionary, the word carat is a noun that means 'a unit of weight for precious stones equal to 200 milligrams.
The website states that the word carat is a variant of the spelling karat, which is why US players became confused with today's challenge.
An example of carat being used in a sentence would be: "The rings contain 624 diamonds, 12 genuine orange sapphires, and 43 genuine blue sapphires, with a total carat weight of 15.30."
However, in the frequently asked questions section, Merriam-Webster does differentiate between the two words, karat and carat. It states, "These two words are tricky, as one of them may refer both to the measurement of a precious stone's weight and to the purity of gold, while the other only refers to the purity of gold. Carat may be used for both, but karat is only employed in reference to gold."
If you struggled to solve this Wordle challenge, don't worry, you are not alone! This was a particularly tough challenge that stumped a lot of players. However, if you want to improve at this game, there are a number of Wordle hacks and Wordle tricks, that may help.
If you fancy something a little different instead, there are a number of Wordle alternatives that are just like Wordle, but with a slightly different twist to keep things interesting!
Another Wordle challenge that recently confused players was Tuesday's Wordle 661, the answer to which was 'qualm.' The word qualm is a noun defined by the Oxford Dictionary as, "an uneasy feeling of doubt, worry, or fear, especially about one's own conduct; a misgiving." An example of the word used in context is; "military regimes generally have no qualms about controlling the press."
Robyn is a celebrity and entertainment journalist and editor with over eight years experience in the industry. As well as contributing regular to woman&home, she also often writes for Woman, Woman's Own, Woman's Weekly and The Sun.