Wordle 629 angers players with tricky challenge, 'I really forgot this was an English word'
Wordle 629 has confused a number of players with an uncommon word, but what is the meaning and definition of today's tricky challenge?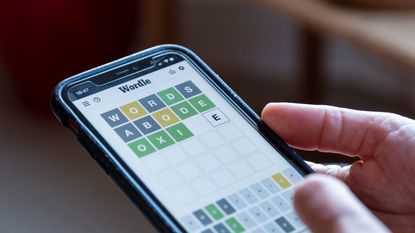 (Image credit: Getty)
A certain word has infuriated a number of Wordle players who struggled to solve a particularly uncommon five-letter word on Friday, March 10, 2023.
Wordle players have been totally stumped by yet another tricky five-letter word as the game makers at the New York Times challenged players to solve an unfamiliar word.
This isn't the first time players have been thrown a curveball - as words such as; ruddy, coyly, quart, and agape have caused a lot of frustration for fans in the past. However, this challenge on March 10, posed a particularly hard challenge for fans.
**Warning! There are spoilers ahead, so don't read on if you have yet to play the game!**
---
The answer for the Wordle challenge on March 10 was 'revel'. Players who struggled to solve this challenge took to social media to complain about the difficulty of this game.
"Wordle 629 5/6 I really forgot this was an English word," said one player. "Wordle 629 6/6 never heard the word before. that was one of those where you work your way through, eliminate letters on the go & are a bit lucky with the guess on your last try," said another.
"Wordle 629 5/6 I'm not sure I've heard anyone use this word other than Eminem or anyone trying to rap his songs," joked yet another player.
One player commented, "Wordle 629 3/6 ha ha random word I'd never normally think of!"
Wordle 629 5/6🟨⬛⬛⬛🟨⬛⬛🟨⬛🟩⬛⬛⬛🟩🟩🟩🟩⬛🟩🟩🟩🟩🟩🟩🟩 i really forgot this was an english wordMarch 10, 2023
See more
Some players guessed 'rebel' at the last minute instead of 'revel'. "Epic fail. Tossed a coin on the last guess and came up wrong! Wordle 629 X/6," said one player.
Even those who completed the challenge were aware of how tricky it was. "I'm ok with this 5 considering the word. #Wordle629 Wordle 629 5/6*," said one player.
Other players loved the difficulty level and complimented the New York Times for presenting them with a tricky challenge. "Wordle 629 4/6 Oh, I like this one! Good word," said one player.
"Hmmm, I thought this was gonna be a quick one... Instead, I almost started sweating! An easy but tricky #Wordle Good luck guys. #Wordle629 Wordle 629 5/6," said another.
Wordle 629 X/6⬛⬛🟨⬛🟨⬛🟩🟨🟨⬛🟩🟩⬛🟩⬛🟩🟩⬛🟩⬛🟩🟩⬛🟩⬛🟩🟩⬛🟩🟩First loss since PIXIE two months agoMarch 10, 2023
See more
Revel meaning
Many players struggled with this challenge because they were simply unfamiliar with the term. The word is not particularly common in everyday life, so what does the word revel mean?
The word 'revel' is both a verb and a noun. The verb is defined as 'to enjoy oneself in a lively and noisy way, especially with drinking and dancing.' The verb means, 'lively and noisy enjoyment, especially with drinking and dancing'. This means you could say 'we had some late-night revels' and you could also say 'they spent the evening reveling with guests.'
If you struggled to solve this Wordle challenge, don't worry, you are not alone! This was a particularly tough challenge that stumped a lot of players. However, if you want to improve at this game, there are a number of Wordle hacks and Wordle tricks, that may help.
If you fancy something a little different instead, there are a number of Wordle alternatives that are just like Wordle, but with a slightly different twist to keep players on their toes!
Laura is a news writer for woman&home who primarily covers entertainment and celebrity news. Laura dabbles in lifestyle, royal, beauty, and fashion news, and loves to cover anything and everything to do with television and film. She is also passionate about feminism and equality and loves writing about gender issues and feminist literature.
Laura loves drinking and eating and can often be found trying to get reservations at London's trendiest restaurants. When she's not wining and dining, Laura can also be found travelling, baking, and hiking with her dog.