Wordle 537 infuriates players with yet another tricky challange, 'much head scratching today'
Wordle 537 has frustrated Wordle players with an unusual word, but what is the definition of today's word challenge?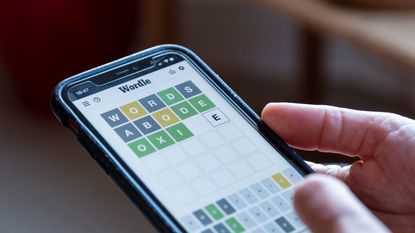 (Image credit: Getty)
woman&home newsletter
Sign up to our free daily email for the latest royal and entertainment news, interesting opinion, expert advice on styling and beauty trends, and no-nonsense guides to the health and wellness questions you want answered.
Thank you for signing up to . You will receive a verification email shortly.
There was a problem. Please refresh the page and try again.
Wordle 537 has stumped a number of players who struggled to work out the tricky challenge set by the New York Times on Thursday, December 8, 2022.
Wordle players have yet again been faced with a challenging five-letter word as the game makers at the New York Times challenged players to solve an unfamiliar word. While this isn't the first time players have been thrown a curveball - as words such as; leery, coyly, quart, and agape have caused a lot of frustration for fans in the past, today's word has caused another challenge.
Warning! There are spoilers ahead, so if you don't want to know what the answer is, please click away!
The answer for the Wordle challenge on December 8 was 'infer.' This divided players; a lot of users found this one tricky, while some figured out the challenge without breaking a sweat.
"I thought it was hard today!" one player wrote on Twitter, while another sarcastically described it as, "one of those words."
"An uncommon word for today," another said. "Much head scratching today," commented another.
However, some players found today's challenge easy work. "Well, THAT took 10 seconds or less," one player said. Another bragged, "Almost got it in two!"
One player who guessed it in four tries joked, "I've had worse showings."
Many Wordle fans actually refused to play today's challenge, to show solidarity to New York Times staff, who are on a 24 hour strike.
One worker tweeted, "Beginning tonight at midnight, 1,100 employees are going on a 24-hour strike, me included. We're asking readers to not engage in any New York Times platforms tomorrow and to stand with us. Read local news. Listen to public radio. Break your Wordle streak."
One dedicated fan wrote on Twitter, "I'm skipping the crossword and breaking my Wordle streak." While another added, "I'm pro union and won't cross the digital picket line today. No Wordle, etc."
Infer meaning
Many players struggled with today's challenge because it's not a particularly common word. The word is not often used in everyday life, so what does the word infer mean?
The Cambridge dictionary says that infer is a verb that is used, "to form an opinion or guess that something is true because of the information that you have."
While dictionary.com's meaning reads, "to derive by reasoning; conclude or judge from premises or evidence."
Examples of the word in a sentence from the Cambridge dictionary include, "What do you infer from her refusal?"
Or, "He inferred that she was not interested in a relationship from what she said in her letter."
If you struggled to solve this Wordle challenge, don't worry, you are not alone! This was a particularly tough challenge that stumped a lot of players. However, if you want to improve at this game, there are a number of Wordle hacks and Wordle tricks, that may help.
If you fancy something a little different instead, there are a number of Wordle alternatives that are just like Wordle, but with a slightly different twist to keep things interesting!
Robyn is a celebrity and entertainment journalist and editor with over eight years experience in the industry. As well as contributing regular to woman&home, she also often writes for Woman, Woman's Own, Woman's Weekly and The Sun.