Who got married in the Love is Blind season 4 finale? The final couples revealed
If you're wondering who got married in the Love is Blind season 4 finale we've got you covered with the emotional details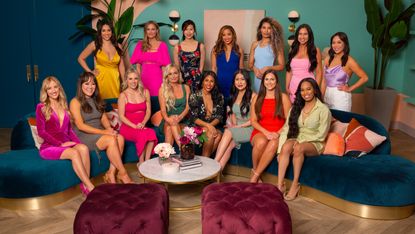 (Image credit: Cr. Monty Brinton/Netflix © 2023)
When it comes to who got married in the Love is Blind season 4 finale this dramatic season delivered some typically emotional 'yes' and 'no' moments.
Throughout this latest season fans have been speculating over who is still together from Love is Blind season 4 and looking back at who is still married from Love is Blind generally. The show presents the ultimate romance experiment but as all fans know, until our favorite couples' say, "I do" literally anything can happen. Already two couples have broken up in season 4 before even getting to the wedding day, leaving just four preparing to tie the knot in front of their friends and family by the time of the finale.
Here we reveal who got married in the Love is Blind season 4 finale and which answers the brides and grooms gave…
*Warning: Major Spoilers ahead!*
Who got married in the Love is Blind season 4 finale?
Chelsea and Kwame - Yes
Chelsea and Kwame's wedding was the first to be shown and they were also the first of the couples who got married in the Love is Blind season 4 finale. Chelsea had already said yes in the penultimate episode and fans were left on tenterhooks waiting for Kwame's response to be revealed in the finale. There was some uncertainty around this leading up to the wedding day as he'd already spoken about how much he was compromising on in terms of moving from Portland to Seattle.
Another factor that looked like it could lead to him saying no was that his mom didn't approve of the experiment and hadn't met Chelsea or given the couple her blessing.
Kwame had told Chelsea about how much his mother and her opinion meant to him and she'd even asked him if he'd say yes to her without her blessing. By the time the wedding came around, Kwame did have his siblings there, though. His sister Barbara was especially supportive and went to see Chelsea prior to the ceremony.
Knowing Chelsea was right for him, Kwame mirrored Chelsea and said yes, much to the delight of both families and friends. They walked back down the aisle afterwards to huge cheers from the guests and Chelsea said she was feeling "the best" whilst he was feeling "amazing".
Both seemed to be completely ecstatic to be husband and wife and his answer proved that Chelsea had taken the right path. She said before the ceremony that she was putting her faith in them as a couple above her fear that he might say no and now the happy couple get to embark on married life together.
---
Micah and Paul - No
Micah and Paul might've seemed incredibly loved-up in the penultimate episode of the season leading up to the big day but the environmental scientist said "no", meaning he and Micah aren't one of the couples who got married in the Love is Blind season 4 finale. Prior to the ceremony Paul described their journey to get to the wedding day as a "bizarre and beautiful journey" but when asked by his loved ones if it was "sustainable" as a relationship he said he couldn't say.
Meanwhile Micah shared how Paul brings her "down to earth" and how much she loved him, though was nervous about the nuptials, unsure of what her fiancé would say. This uncertainty came through later on when she was asked to give her answer on whether she was saying yes or no to marrying Paul.
"I think that in this moment, the best thing that I can do for us is to give you the opportunity to answer first," she responded and it was then that Paul left the guests shocked when he told his bride that he didn't think they "can choose each other right now."
Micah said she "never" felt safe and secure about how much Paul loved her and then as he went to continue talking to her, she walked away. Both then left the ceremony and Paul tried to explain that he hadn't said no because he didn't love Micah but because he just couldn't be sure about marriage.
"To tell her no destroyed me. Like, it definitely destroyed me," Paul said and he explained that he hadn't been sure whether she truly loved him and debated whether she held back because she was similarly unsure about his feelings.
Separately, Micah revealed that she'd given Paul the opportunity to go first because all she needed to be able to say yes was to be sure that he wanted to choose her and marry her. Although she never gave her answer, she said it would've been yes. Whilst some couples from Love is Blind do sometimes end up deciding to date but not get married, the way things were left it doesn't seem like Paul and Micah are necessarily looking to take that path themselves.
---
Brett and Tiffany - Yes
Both Brett and Tiffany said "I do!" in a moment that likely wouldn't have come as a surprise to many fans. From the start these two have been one of the most solid couples and didn't encounter any major obstacles throughout their Love is Blind season 4 journey. The preview for the Love is Blind finale seemed to suggest there could've been trouble in paradise but it turned out that Brett was just being very particular about his angelic white suit fitting him perfectly.
Once this was resolved the wedding went smoothly and when he was asked to go first he took no time at all in telling Tiffany he wanted to spend the rest of his life with her. Tiffany likewise said yes and the couple's friends and family clapped as the new Mr and Mrs Brown officially tied the knot. Earlier on in the season Chelsea and Kwame had discussed which couples they thought would go the distance and Kwame said, "My goodness if Brett and Tiff don't make it, it will eat me alive."
Thankfully Kwame - and Tiffany and Brett fans - didn't have to face heartbreak and the happy-ever-after wedding scenes of Tiffany and Brett were truly adorable.
Talking to camera after the ceremony Brett affirmed how excited he was to finally be Tiffany's husband.
"I feel like I've truly found my life partner, and I'm just thrilled to start our life together," he declared, whilst Tiffany said that absolutely nothing "scares" her about her new husband and was clearly delighted to now actually be married.
---
Bliss and Zack - Yes
Bliss and Zack had one of the most interesting journeys for a couple who both said yes and who got married in the Love is Blind season 4 finale. At first Zack picked Irina over Bliss after forming connections with both of them in the pods during the early stages of Love is Blind. Irina and Zack from Love is Blind split up after their real-life relationship didn't match up to their initial bond after seeing each other.
After this, Zack and Bliss met up and he explained what a mistake he thought he'd made. Their romance was a whirlwind and they soon got engaged, though he was especially anxious about how her family would feel.
Bliss' mom seemed supportive whilst her dad was incredibly skeptical, leading to the couple openly talking about not wanting to get divorced like both their parents. Bliss said it was "ok to change your mind in things" before the finale saw them both agree that they'd found their person.
"It was like fire between us," Bliss said before the ceremony as she described their passionate relationship whilst Zack declared that "at some point you've just gotta take a jump".
During the ceremony it was Zack who was asked first whether he wanted to say yes or no to Bliss and he told her he loved her and after a short pause that likely got some fans worried, he said yes. She did the same and they shared a kiss in front of their friends and family.
The couple were even seen officially signing a marriage certificate, proving just how serious they both are about going forward as husband and wife.
Theirs was the last wedding ceremony in the Love is Blind season 4 finale, with three out of four couples tying the knot. We will see them again in the season 4 reunion alongside the other finale couples and reportedly Marshall and Jackie who called off their engagement before their wedding day.
Emma is a Senior Lifestyle Writer with six years of experience working in digital publishing. Her specialist areas including literature, the British Royal Family and knowing all there is to know about the latest TV shows on the BBC, ITV, Channel 4 and every streaming service out there. When she's not writing about the next unmissable show to add to your to-watch list or delving into royal protocol, you can find Emma cooking and watching yet more crime dramas.