WeCrashed—the true story behind Apple TV's new Anne Hathaway drama
WeCrashed stars Anne Hathaway and Jared Leto and tells the story of WeWork's rise and fall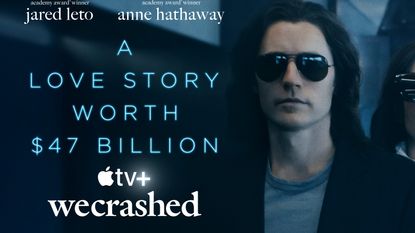 (Image credit: Apple TV+)
WeCrashed is Apple TV's newest high-profile series. Find out who joins Anne Hathaway in the cast and the story that inspired the series.
Bored of waiting for Bridgerton season 2? Need something to fill the void of the Bachelor 2022? Looking for another zeitgeist-defining show like Amanda Seyfriend's The Dropout? WeCrashed might be just the answer.
Starring bonafide Hollywood A-listers like Anne Hathaway, WeCrashed follows the explosive story of WeWork, and the married couple who oversaw its meteoric rise… and messy fall.
Read on to find out more about WeCrashed, including who's in the cast and the true story behind it all…
---
What is WeCrashed based on?
WeCrashed is based on WeWork, the startup company set up by co-founder Adam Neumann and his wife, WeWork's chief brand and impact officer, Rebekah, nee Paltrow—who's Gwyneth Paltrow's first cousin!
One of the biggest companies of the past two decades, WeWork took off fast.
WeWork billed itself as a real estate company that provided shared workspaces for startups, freelancers and other companies.
Just two years after its launch in 2010, by the end of 2012, WeWork had four offices in New York City, one in Los Angeles and one in San Francisco.
It was in 2012 that the cult of WeWork started to emerge, with the first first annual Summer Camp, a (mandatory for employees) three-day "networking and music" event which saw WeWork staff and supporters visit a wooded retreat owned by Rebekah's family.
Employees were also said to be expected to attend the company's weekly Thank God It's Monday parties, which often went to the early hours of the morning.
As the character behind the company grew, WeWork opened offices around the world—including in London—and, by 2015, the company was estimated to be worth $10 billion.
However, as one employee told Vanity Fair, there was more to the story behind the positive headlines.
The employee said, "We would joke that we worked like slaves. Adam would have meetings on Sunday, and you could never miss those. And sometimes it wouldn't happen, or it'd happen hours late and you'd be there all night. You'd cry in the bathroom all the time."
Other oddities widely reported by the press included stories suggesting Adam "expected deputies to show up for Kabbalah meditation classes and tequila-addled midnight meetings, and their children opened up lemonade stands in the office."
Rebekah also drew heavy criticism when she said at one of the summer retreats, "A big part of being a woman is to help men [like Adam] manifest their calling in life."
Why did WeWork fail?
Despite rapid expansion, WeWork wasn't pulling in the revenue to match how much the Adam and Rebekah were borrowing and spending.
The IPO paperwork ahead of trying to take the company to the public stock market revealed that in 2018, WeWork lost $1.6 billion of its $1.8billion in revenue, the company reportedly loaned millions to Neumann and other senior executives and Neumann allegedly cashed out $700 million from the company ahead of its IPO.
In October the We Company's biggest investor, Softbank, took over WeWork and Adam Neumann was given a $1.7 billion golden parachute to step down as chairman of the board.
In November 2019 WeWork laid off 2,400 employees.
Who is in the WeCrashed cast?
Oscar winner Anne Hathaway stars as Rebekah Neumann alongside another Oscar winner, Jared Leto, who stars as Adam Neumann.
Ugly Betty's America Ferrera also stars, as does Broadway's Steven Boyer and British actor O. T. Fagbenle.
How to watch WeCrashed
The first three episodes of WeCrashed were made available to stream exclusively on Apple TV+ on March 18.
New episodes will be released weekly, coming out each Friday up until the finale which will be released on April 22.
Jack Slater is not the Last Action Hero, but that's what comes up first when you Google him. Preferring a much more sedentary life, Jack gets his thrills by covering news, entertainment, celebrity, film and culture for woman&home, and other digital publications.
Having written for various print and online publications—ranging from national syndicates to niche magazines—Jack has written about nearly everything there is to write about, covering LGBTQ+ news, celebrity features, TV and film scoops, reviewing the latest theatre shows lighting up London's West End and the most pressing of SEO based stories.