Amanda Seyfried as Elizabeth Holmes—disgraced Theranos founder set for more attention as photos emerge from the set of The Dropout
Amanda Seyfried stars as biotech entrepreneur Elizabeth Holmes in The Dropout, set to debut on Hulu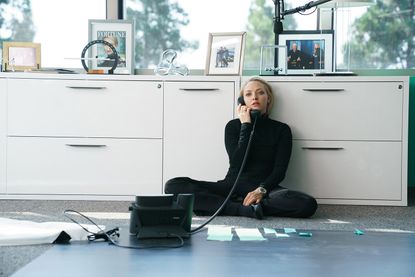 (Image credit: Beth Dubber/HULU)
Just as closing arguments kick off in the federal trial against disgraced Theranos founder Elizabeth Holmes, Hulu released the first pictures from the set of The Dropout, a new series that Amanda Seyfried produces and stars in as the biotech entrepreneur.
Amanda, who hasn't been shy about how life in the spotlight has led her to terrifying panic attacks, boasts a black turtleneck and bright red lipstick in all the new images, a look that has come to characterize 37-year-old Stanford dropout Elizabeth. (In case that reminds you of yet another big-shot in technology, the late Steve Jobs, you should know that Elizabeth has called him her idol plenty of times in the past).
Some of the just-released photos also portray actor Naveen Andrews as Sunny Balwani, Elizabeth's former business and romantic partner who was also charged with defrauding investors.
The Dropout, whose first three episodes are set to drop on Hulu on March 3, tells the story of the world's youngest self-made female billionaire, Elizabeth, who started a blood-testing company that seemed to be poised for utmost success until she was accused of defrauding investors.
Before it all came crashing down, Elizabeth's company, Theranos, was valued at $9 billion—mostly given hopeful investors' beliefs that the startup could accurately perform a wide variety of tests using a single drop of blood. If found guilty, Elizabeth could face up to 20 years in prison.
---
Clearly, the Silicon Valley story has resonated with folks in Hollywood. In fact, The Dropout isn't the only production about the subject. Earlier this month, Apple announced that Jennifer Lawrence would star as Elizabeth in a new movie dubbed Bad Blood.
Adam McKay—who has most recently worked with Jennifer on the Netflix dark comedy Don't Look Up—will be writing, directing and producing Bad Blood, which will is based on the book Bad Blood: Secrets and Lies in a Silicon Valley by Pulitzer Prize-winning journalist John Carreyrou.
Anna Rahmanan is a New York-based writer and editor who covers culture, entertainment, food, fashion and travel news. Anna's words have appeared on Time Out New York, the Huffington Post, Fortune, Forbes, Us Weekly, Bon Appetit and Brooklyn Magazine, among other outlets.