This usual 2020 Christmas tree trend sees people buying a spruce that's cut in half
Are you ready for this bizarre-yet-practical 2020 Christmas tree trend?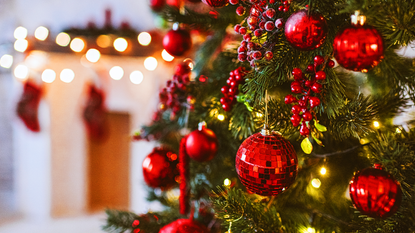 (Image credit: Getty)
The big day is just around the corner but are you aware of an unusual 2020 Christmas tree trend that's doing the rounds this year?
With most of us spending more time at home than ever before, lots of people have been getting their trees up early this year. But we all know that deciding on the size of a tree can be hard - misjudge it and you'll have to chop the top off or you'll have to trim the sides down with secateurs, so it fits neatly into the corner of your living room.
However, a new trend for 2020 sees individuals buying half an artificial Christmas tree - yes that's a spruce quite literally sliced down the middle. This allows people to fit the tree neatly into the corner of a room - whilst still giving the impression of a normal tree from the front.
A number of retailers are offering these "cut in half" trees as a space-saving solution to the regular ones.
Balsam Hill is selling one called the "Kensignton Flatpack" tree (opens in new tab) which, once put up, appears to be a full tree - but takes up only half the floor space.
The product description says, "Designed to fit in the urban residence, this innovative tree is ideal for any flat or tight space where a full tree is not practical, but where a full-sized tree is desired. Made with classic needle foliage, the tree is a full 50" wide but has a flat back which rests against the wall and features lush foliage that comes out no more than 25"."
According to the website, it's the same "trick" used by Hollywood studios for movie and TV sets when they want to give the impression of a full tree.
It's safe to say 2020 has been full of surprises and this festive one is no different. What do you think of this bizarre-yet-practical Christmas tree trend?
Lizzie Thomson is a regular contributor to woman&home, and also contributes to Metro.co.uk, Ideal Home, Culture Trip, and Evening Standard, covering all things lifestyle.