There's an R-rated cut of Robin Williams' classic family movie, Mrs Doubtfire and fans are begging to see it
Mrs Doubtfire never gets old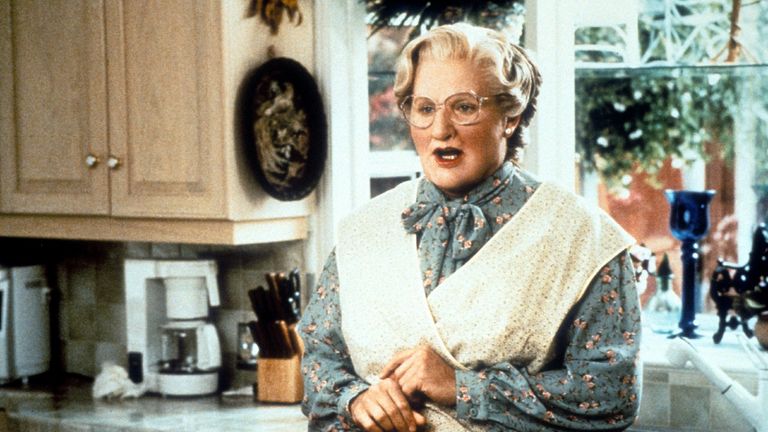 (Image credit: Archive Photos / Stringer)
Christopher Colombus, the director of Mrs Doubtfire, has confirmed there is an R-rated cut of the film due to Robin Williams' constant improvising.
In 1993, Robin Williams starred in the classic 90's comedy film, Mrs Doubtfire. Alongside Sally Field and Pierce Brosnan, Robin played a father going through a difficult divorce who goes to great lengths to disguise himself as a nanny in order to spend time with his children. The film is still hailed as a comedy classic and one of the best movies from the late comedian Robin Williams.
In a recent interview with Entertainment Weekly, the director of Mrs Doubtfire Christopher Colombus, who also directed Harry Potter the Philosophers Stone and Home Alone, revealed that an R-rated version of Mrs Doubtfire exists. The film was originally released as a PG-13 rated film in the US and 12 in the UK.
Read more from woman&home:
• Best travel pillows for every kind of trip and sleeper
• Best scented candles for a warm and cozy home
• Best Kindles for digital book lovers – we help you decide which one to buy
The director revealed, "The reality is that there was a deal between Robin and myself, which was, he'll do one or two, three scripted takes. And then he would say, 'Then let me play.'"
The director revealed that there were dozens of takes for each scene. "We would basically go on anywhere between 15 to 22 takes, I think 22 being the most I remember," said Christopher. "He would sometimes go into territory that wouldn't be appropriate for a PG-13 movie, but certainly appropriate and hilariously funny for an R-rated film."
The director said that although he can't remember the specific content of the deleted scenes, he did remember that they were hilarious. "I only know what's in the movie at this point because it's been a long time. But I do remember it was outrageously funny material," he said.
This statement has been corroborated by a younger cast member Mara Wilson, who played Robin Wilson's character's youngest daughter Natalie. Mara Wilson told Today in 2018 that Robin loved improvising and would regularly change up scenes. "It'd be like, 'OK, take 25! And Robin would be different every time," said Mara.
Christopher Colombus shot down the idea of releasing another version of the film, but did suggest a different project, "I would be open to maybe doing a documentary about the making of the film, and enabling people to see certain scenes re-edited in an R-rated version," he said.
However, fans are still begging to see the uncensored material. One fan tweeted, "An R-rated version of Mrs Doubtfire would smash box office records, don't hold back we need to see this!"
Sadly, Robin Williams passed away in 2014, so many are desperate to see more of his work, as they will never receive new content from the star. One fan tweeted, "I'd like to watch those risqué versions, mostly because I miss Robin Williams."