The Love is Blind season 4 reunion features a unique twist
Been anxiously awaiting the Love is Blind season 4 reunion? Join the club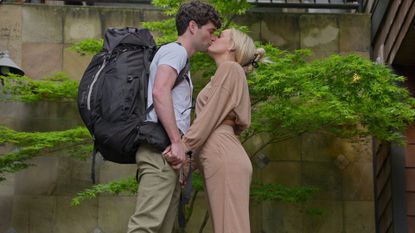 (Image credit: NETFLIX)
Love is Blind season 4 is coming swiftly to an end - and the creators of the show have a new surprise in store for fans who are anxiously awaiting the cast's reunion.
After every season of Love is Blind, hosts Nick and Vanessa Lachey gather the cast together to rehash everything that happened throughout their season - and yes, we mean everything. This reunion is always poised to be quite the dramatic (and consequentially hilarious) TV event, seeing as everyone will be asking who is still together from Love is Blind season 4?
On season 4 so far, folks have seen couples get engaged, break off, be emotionally unfaithful, and more - making for what has been quite the addicttive season. Between Jackie and Marshall's tumultuous ending, Irina and Micah's "mean girl" behavior, seeing who got married from season 4, and way too much singing coming from the men, it's been quite the rollercoaster - hence why we're majorly looking forward to the cast's reunion on Sunday, April 16.
Some couples, like Tiffany and Brett, proved to be lucky in love - while others, like Marshall and Jackie, did not. While we loved seeing the drama unfold in the last episodes, we'd be remiss if we didn't mention just how entertaining and chaotic this reunion is about to be. Besides the fact that this will be the first time the cast is getting together again since the season was filmed, the producers have added an extra element that is guaranteed to make this season 4 reunion the juiciest yet.
In a surprising change from previous seasons, this reunion will be broadcasted live on Netflix on April 16, marking this as the first live-streamed reunion in Love is Blind history.
There's so much we want to see. How will Irina and Zack act toward each other? Will Micah and Kwame have anything to say to one another? We're shivering with anticipation.
Even if this was a perfect world for the season 4 cast and there was no drama, this event would still be entertaining, solely based on the fact that it'll be streamed live - aka, anything can happen, and there are no edits to be made.
However, there is definitely still some drama stewing between some of the castmates.
For example, a leaked text chain between Jackie and her friends recently indicated that she was dating both Marshall and Josh at the same time. Allegedly, Jackie sent a video of her and Josh to her friends, captioning it "my baby."
In the TikTok above, the leaked texts show Jackie telling her friends that Marshall isn't aggressive enough for her, even calling him "sweet".
The texts also reveal some other... intimate... details (to say the least) - you'll just have to read them for yourself.
Supposedly, Marshall saw those texts, because he tweeted, "The only sugar I got goes on those f*cking pancakes." PHEW.
Although there's some uncertainty right now about where Marshall, Jackie, and Josh stand, we're definitely about to find out at this reunion. You can tune into the Love is Blind season 4 reunion on Sunday, April 16 at 8pm, EST.
Madeline Merinuk is woman&home's US lifestyle news writer. She covers celebrity, entertainment, fashion, and beauty news but is also obsessed with internet trends - you can find her reciting trending TikTok sounds out loud at any given time.
After winning multiple student journalism awards for her investigative work, she graduated from Hofstra University in 2021 with a B.A. in Journalism. After graduating, she worked at today.com, the digital site for the Today Show, where she wrote pop culture news and interviewed big-name personalities like Emily Ratajkowski, Haley Lu Richardson, Emma Corrin, and more.
Her personal interests, in no particular order, are: cheese, Joni Mitchell, reading, hot yoga, traveling, having multiple chapsticks in every handbag at all times, and dancing to ABBA songs as if she were in the Mamma Mia movies.