That viral photograph of Joe Biden and Jimmy Carter actually has a very logical explanation behind it
Joe Biden and Jimmy Carter have gone viral because of a very unusual photo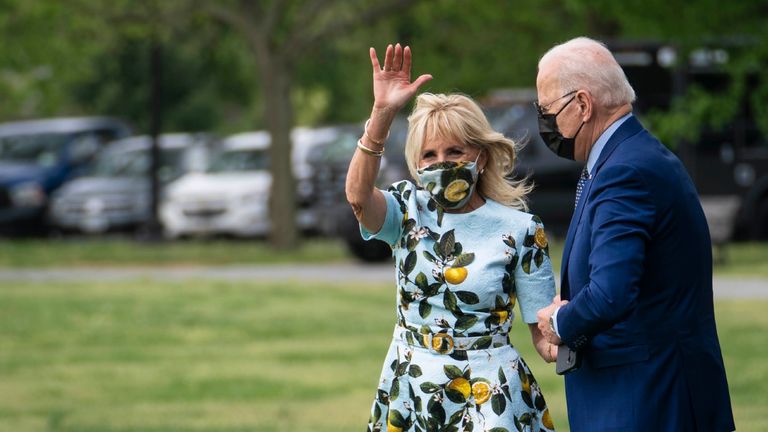 (Image credit: Sarah Silbiger / Stringer / Getty Images)
The Carter Center Twitter account released a photo of Jimmy Carter and Joe Biden and fans have been confused about why the POTUS looks so strange next to the former President.
Joe Biden, Jill Biden, Jimmy Carter and Rosalynn Carter met in Georgia last week. However, this momentous occasion of the oldest former President meeting the current POTUS has been overshadowed by a bizarre photo of their meeting.
The photo first came to light when a tweet from the Carter Center shared the image of Joe Biden and Jimmy Carter. The tweet said, "We're pleased to share this wonderful photo from the @POTUS and @FLOTUS visit to see the Carters in Plains, Ga.! Thank you President and Mrs. Biden!"
---
More from Woman & Home:
• The best leggings for exercising and lounging
• The best running shoes for all types of workouts
• The best fitness trackers to monitor your activity
---
Why has the photograph of the Bidens and the Carters got everyone talking?
Fans were shocked by the photo and many claimed that the President and Dr Biden appeared as "giants" next to Jimmy Carter and his wife, former First Lady Rosalynn Carter.
The post became an instant meme as fans found the picture hilarious. One fan said, "We voted for Biden because he's a decent human being with sound policies but also because he and Jill are giants who will crush you if you make them angry." Another fan joked, "Carters look like a pair of puppets there."
One fan even made a hilarious attempt to improve the image and captioned their post, "There. I fixed it."
Why are the Bidens so much bigger than the Carters?
Despite the confusion, there is a logical explanation as to why the Carters look so much smaller than the Bidens. The photographer used a wide lens camera to take this shot. While a wide lens can be a useful tool to ensure that everyone fits into the frame, there are downsides. The key issue is that the outer image can be distorted and enlarged while the inner part of the image is shrunk down.
One Twitter user neatly described this phenomenon and provided a visual aid. They said, "This shows you how distorted this picture is from the lens and the flash. This was a quick and dirty fix in Photoshop, but it's closer to actual sizes, look at the white area on the edges, you can see how it was distorted."
So it appears the Dr Jill Biden and Joe Biden have actually just been the victims of poor editing and are not in fact giants. Either way, fans loved the political meme as there hasn't been one this funny since Bernie Sanders became a meme in mittens.