Ruth Langsford reveals what she thought of husband Eamonn Holmes when she first saw him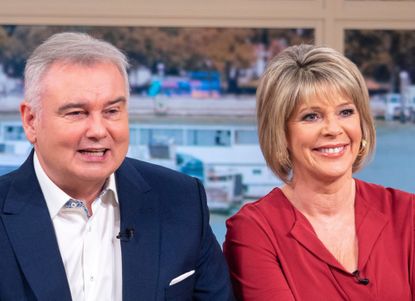 This Morning's Ruth and Eamonn are one of TV's most popular couples, and their cheeky banter and love for each other makes them a joy to watch.
Their chemistry is undeniable and the couple are very open about their happy relationship.And it seems the pair have always been smitten with each other.
In an interview with The Mirror, Ruth shared what she thought of Eamonn when she first set eyes on him - on a normal day at work. She said, "I remember when I saw Eamonn for the first time.
MORE:Ruth wears cashmere jumper from Kate's fave high-street store (opens in new tab)
"I was working as a transmission assistant for ITV and we had a monitor we called the 'dirty feed' from the BBC, and I used to see this dark handsome man hosting a show called Open Air, so I would flick over my headphones and think, 'He's nice. Who is that?' Little did I know…" How sweet!
Adorably, Eamonn also admitted that life would have been "unthinkable" if he and his wife had never met. He said, "We talk about what life would have been like if we hadn't met each other – it wouldn't bear thinking about. It wouldn't have been as exciting or as adventurous. The journey has been a really good one."
Eamonn and Ruth married in June 2010 and it seems they haven't looked back since!
59-year-old Eamonn is quite the romantic himself, and often shares sweet messages on social media about his wife.
In the same interview, Eamonn shared why he enjoys working alongside his wife, "I like presenting with Ruth because I love her, that's basically it. In fact, I more than love her, I adore her. That doesn't mean to say we can't have sharp words, mind."
Ruth agreed, saying, "We like to be together. Our professional lives pull us apart, but we actually miss each other quite a lot."
So sweet!
With Valentine's Day around the corner, the big question is how will the romantic couple be celebrating? Well, it seems Ruth is not overly keen on the celebration, finding it all a bit 'forced'. Eamonn on the other hand thinks it's lovely to agree that certain days in a relationship should be made particularly special.
He confessed, "It's a bit of one-way traffic on Valentine's Day at ours. I don't think Ruth would care if it happened or not, but I think it's lovely to remind your partner that they're the one for you.
"People may think it's naff, but it makes sense if you're in a relationship to say that there are certain days of the year we're going to make special."
Hopefully the couple will agree on a plan before Thursday!