Rebel Wilson and her girlfriend look adorable in coordinated looks
Wearing matching sunglasses and similar green outfits, Rebel Wilson and girlfriend Ramona Agruma looked too cute for words in California this past weekend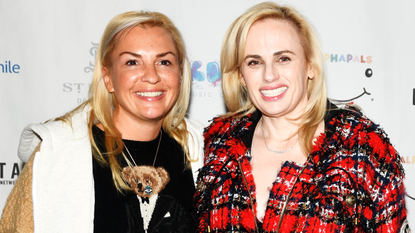 (Image credit: Alex Goodlett / Stringer)
Pure happiness has been a long time coming for actor Rebel Wilson, who seems to be living her very best life alongside girlfriend Ramona Agruma these days.
A few months after coming out publicly after learning she was to be 'outed' by an Australian publication, Rebel seemed to be radiating happiness while walking down the streets of Brentwood in California holding hands with Ramona, heading to the renowned annual Day of Indulgence women's-only party hosted by producer Jennifer Klein.
The two turned heads wearing coordinated outfits. The 42-year-old Australian actor and comedian wore a green-and-white horizontal striped T-shirt by Zimmermann with blue jeans, a baby pink Hermès Birkin bag and Gucci sneakers. Ramona, on the other hand, wore a green blazer-and-shorts set with a Christian Dior bag and white sneakers by the same designer. The couple wore matching aviator sunglasses.
This isn't the first time the two stepped out in public as a happy couple, but it has certainly been a rocky ride to get here.
Rebel Wilson and Ramona Agruma hold hands while heading into Day of Indulgence in Brentwood https://t.co/pRXINUS2yR pic.twitter.com/XdFDRPoxoIAugust 15, 2022
See more
In May, Rebel revealed that she went on a date a week for a year but finally found love. In an appearance on Betches Media's podcast U Up?, the star of the Netflix movie Senior Year said she was "happily in a relationship" without mentioning her partner's name. Back then, she explained that she was introduced to her lover through a friend.
"I think that escalates things quicker, meeting someone from a trusted source," she noted on the podcast. "I can trust that they are who they say they are, which is something that you don't really know on the apps."
Fast-forward a few months and Rebel posted a photo of herself with Ramona, both looking radiant while smiling at the camera.
In the caption to the image, Rebel wrote, "I thought I was searching for a Disney Prince… but maybe what I really needed all this time was a Disney Princess 💗🌈💗#loveislove."
Fans and fellow stars have been celebrating Rebel's love life for a few months now, a fact that has undeniably contributed to the actor's obvious happiness in recent photos.
More recently, Rebel paid an emotional tribute to Olivia Newton-John, revealing star helped her on drastic weight loss journey. As a reminder, Rebel and the late Olivia played mother and daughter in the 2011 film A Few Best Men and the pair grew close while filming.
"@therealonj, you were the most gorgeous lady inside and out, you are a true Aussie icon and to play your daughter on screen in A FEW BEST MEN was beyond an honour," Rebel wrote on Instagram following the passing of the legendary actor. "Seeing you star in the huge Hollywood blockbuster GREASE with your natural accent was so instrumental to me as a little girl, helping me to believe that it was possible for an Aussie girl to star in huge international musicals. You were the reason I auditioned for my high school production of GREASE at 15 - I was only in the chorus, but it was a start!"
She went on to specifically thank Olivia for discussing health-related matters with her so openly. "You tried to teach me about health years before I took it seriously," Rebel wrote in her post. "You were so kind to me and it was such a blessing to know you Olivia. I'll never forget us singing at the piano in our lunch break on set together - what a complete legend you are! I am so sad you are gone 💗 Love and Light always to you ONJ, Rebel xoxo"
Anna Rahmanan is a New York-based writer and editor who covers culture, entertainment, food, fashion and travel news. Anna's words have appeared on Time Out New York, the Huffington Post, Fortune, Forbes, Us Weekly, Bon Appetit and Brooklyn Magazine, among other outlets.