Pieces of Her season 2—why the changes from Karin Slaughter's book mean there *could* be a sequel
If you're hoping for a Pieces of Her season 2 you're probably not alone, but could it ever happen?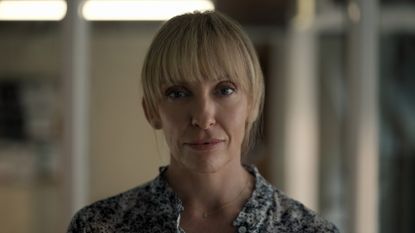 (Image credit: Netflix)
Pieces of Her season 2 is yet to be confirmed, but that won't stop fans from speculating about where a sequel could take these complex characters.
Anyone who's already binge-watched their way through to the Pieces of Her ending might've had their biggest questions answered but there are plenty more details left to explore. Based on Karin Slaughter's book of the same name, the new Netflix drama sees Andy set out to uncover the secrets hidden in her mother Laura's past.
Only the more she discovers, the more danger they're both in and by the final episode, many fans will perhaps be eager for more instalments to continue Laura and Andy's gripping story. But could there be a Pieces of Her season 2 and what might it be about?
*Warning: spoilers for the Pieces of Her ending ahead!*
Could there be a Pieces of Her season 2?
Just like many dramas in recent months, from limited series Netflix's Maid to The Last Kingdom, there will be fans hoping that the finale isn't really the end of Pieces of Her. The new Netflix hit was originally conceived as a limited series and was based upon bestselling crime writer Karin Slaughter's standalone book, suggesting that a Pieces of Her season 2 might be unlikely.
Though according to the showrunner Charlotte Stoudt, this could all be about to change, as long as the demand is there. Opening up to The Hollywood Reporter, Charlotte seemed to suggest that Netflix could potentially renew the show and bring fans a Pieces of Her season 2.
"It started as a limited [series], and then I think there was a decision made at a certain point to go for a series," she explained, reflecting on how she began adapting the storyline to make sure it could have "legs" to potentially go on.
She continued, "I believe that was a Netflix decision, but there's certainly a lot more to tell and I purposely kind of started building it out a little bit more. I tried to open it up so it could have some legs should it find an audience."
This could be seen to have started coming into play by the time the Pieces of Her finale arrived. Even the best book-to-TV and book-to-movie adaptations tweak things here and there and often make for an equally brilliant rollercoaster of a watch.
We've seen changes being made in everything from the recent Our House ending to Stay Close's filming locations. And Pieces of Her is no exception, making the ending much more open-ended than Karin's acclaimed book.
In Pieces of Her episode eight fans saw Laura/Jane's cult-leader ex-partner Nick finally arrested after kidnapping their daughter Andy. Not only that, but whilst Andy discovered her mom was the one who orchestrated the murder of her controlling grandfather Martin Queller, she decided to put the past behind them once and for all. Instead of turning her in, she keeps quiet.
Whilst that does all happen in the book, Nick's manner of arrest couldn't have been more different. In Karin's novel he wasn't the one carrying out the Andy kidnap plan to get an incriminating audio recording from Jane and he was in prison. It's Jane who ultimately gets a recorded confession that will see him remain in maximum security.
In the Netflix adaptation, what Nick actually told police after being arrested is still a mystery. Did he tell Jane's brother Jasper everything like he claimed? Or is the clever cult leader keeping quiet?
These major changes could definitely be seen as leaving the door open for a potential Pieces of Her season 2. There are definitely questions that remain unanswered, with Nick, Jane and Andy's lives arguably still very much intertwined…
What could happen in season 2?
Thriller fans who've already been speculating about the plotline of a possible The Tourist season 2 or even more Our House episodes might already be thinking up potential Pieces of Her season 2 plotlines that could be taken further. And if there's one thing the finale gave viewers, it's options!
For one thing, though Jane's now technically free of Nick, it's not clear whether her life is completely extradited from his. Having taken a different approach in the show, the adaptation could explore just how much Nick is cooperating with law enforcement in season 2.
After all, he knows his ex-partner's biggest secret of all—that she provided the gun that killed her father and planned it with his assassin.
Nick also knows that he planned the original stunt at the Oslo conference with Jasper, before Martin Queller died. Though the tape proving this was supposedly destroyed in a fire at the end of the Pieces of Her adaptation, we don't have complete confirmation of this, only what we're told. This is yet another element that could be brought back to create more conflict in a possible Pieces of Her season 2.
With Jane yet to have attempted to trick Nick into a full confession wearing a wire like in the book, this is also another avenue the Netflix show could take. It could of course be that the adaptation deliberately held this back as one of Charlotte's ways of making it "open up".
Meanwhile, cult member Paula Kunde could also potentially get more of the limelight in a follow-up season. In the book she took a major role, but she wasn't used to the same extent in the show and her loyalty to Nick is strong.
She's also in prison but it could be that Paula is able to make ripples with new revelations from her cell. Andy and Jane's relationship and return to normal lives could also be delved into as the show made it seem like they'd very much been able to move on.
And although the changes that were made perhaps provide the biggest hints at what could come up if Netflix do end up announcing a Pieces of Her season 2, there is one big plot thread they kept the same that could also give budding armchair detectives a valuable clue.
After all, who could forget Jasper? The ambitious politician will let nothing stop him from rising to become Vice President and he now knows Jane's secret too. In both the show and books he tells Jane to expect a demand from him in return for keeping quiet about their father's murder, though his request never takes place in their storylines.
With that hanging over her, it's hard to imagine Jane and Andy ever being able to completely have a fresh start.
So whilst a Pieces of Her season 2 might not yet have been announced, it seems that there's definitely scope to explore Jane's story further in a possible sequel.
Sign up to our free daily email for the latest royal and entertainment news, interesting opinion, expert advice on styling and beauty trends, and no-nonsense guides to the health and wellness questions you want answered.
Emma is a Royal Editor with seven years of experience working in digital publishing. Her specialist areas including literature, the British Royal Family and knowing all there is to know about the latest TV shows on the BBC, ITV, Channel 4 and every streaming service out there. When she's not writing about the next unmissable show to add to your to-watch list or delving into royal protocol, you can find Emma cooking and watching yet more crime dramas.