Our House ending explained—what happens in episode 4 and how different is it from Louise Candlish's book?
The Our House ending finally gets to the bottom of what's really going on at No. 91 Trinity Avenue...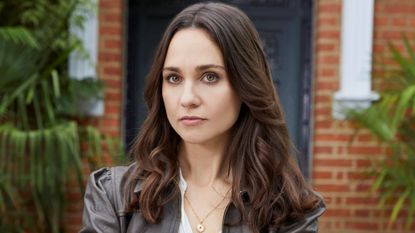 (Image credit: ITV)
woman&home newsletter
Sign up to our free daily email for the latest royal and entertainment news, interesting opinion, expert advice on styling and beauty trends, and no-nonsense guides to the health and wellness questions you want answered.
Thank you for signing up to Woman & Home. You will receive a verification email shortly.
There was a problem. Please refresh the page and try again.
If you're looking for the Our House ending explained then you're not the only one as fans finally learn the sinister events that led to Fi Lawson's confusing reality.
Whilst there are so many things the best book-to-movie adaptations get right, there's nothing quite like a TV adaptation to give more time and space to beloved storylines. And ITV's latest thriller Our House is every bit as dramatic and dark as acclaimed writer Louise Candlish's original book. With a stellar Our House ITV cast including Line of Duty's Martin Compston and Downton Abbey's Tuppence Middleton as estranged couple Bram and Fi Lawson, Our House follows Fi as she attempts to uncover how strangers could've bought her home when she never listed it for sale.
It's clear Bram is involved somehow when she can't get hold of him. But as anyone who's already raced their way through to the finale on the ITV Hub will already know, Fi needs to delve much further into the past to discover the truth.
Here is the Our House ending explained as we reveal just how similar it is to Louise Candlish's gripping book…
*Warning: spoilers ahead!*
Our House ending explained
If you loved the dramatic revelations of the recent Chloe BBC ending or were kept on the edge of your seat by what happens in No Return, then the Our House ending is packed full of all the emotional scenes, betrayals and twists you could ever dream of. Throughout the psychological thriller Fi Lawson (not to mention the viewers!) have been left wondering how Lucy could've possibly bought 91 Trinity Avenue.
Now the truth is finally out in the open and it seems Bram Lawson is every bit as calculating as some might've suspected—but he's not the only one. It emerges that Fi's new boyfriend Toby isn't who he says he is. Instead of being the supportive partner she thought, he was actually blackmailing Bram all along.
Both were involved in a car accident that resulted in the tragic death of an eight-year-old girl, but it was Bram who was actually responsible and had been disqualified from driving. Since then, Toby (real name Mike Fuller) had been demanding hush money from Fi's estranged husband, as was a woman called Wendy who witnessed the incident.
It then got to the point where the only way he could get the money to pay Mike what he wanted was to defraud Fi out of the house and sell it behind her back. Eventually, Fi puts enough pieces together to text her boyfriend from Bram's phone, luring him home where the truth emerges. The devastated mum-of-two has laced his wine with pills and Mike dies after drinking it, leaving Fi to call old friend and neighbour Merle.
After arriving to find Mike dead, Merle attempts to help her as Fi begins to panic, explaining that as she watched Mike drink multiple glasses of wine that's the very "definition of premeditated".
Fi tells Merle that she's the only person she called, but that she had texted Toby/Mike from Bram's phone to get him to the flat. Merle helps her cover it up, repeating that she knew Toby, not Mike, who is a stranger to Fi. She repeats this when questioned by the police later on, asserting she doesn't recognize Mike at all and later discovering that a huge sum of money has been deposited in her account.
Just when Fi thinks that her ordeal with the police is over for one day, there comes an ominous ring of the doorbell. The mum-of-two is then played a heartbreaking audio recording of her missing husband, whose fate and one redeeming quality (his love for his children) shines through in his attempt to protect his estranged wife.
Bram confession recording is met with devastation from Fi intercut with clips of her husband striding into a river alone.
"I was responsible for the accident and the death of a child. I may have been provoked, but no-one forced me to overtake. It was my choice," he continues. "But now those parents have to live with what I did."
Bram goes on to explain that the other driver, Mike, had blackmailed him into defrauding Fi out of their costly family home. It's then that Fi learns where the money has come from as in one selfless final act, he attempts to right some of the terrible wrongs he's done by returning the money to her.
He then clearly declares that Fi had no knowledge of the fraud and is completely innocent of any involvement. Instead, he tells the recording of how Mike adopted the false identity of Toby to take advantage of Fi.
"I'm the guilty one here," Bram says clearly. "Me, and only me."
Unfortunately for Bram his attempt to protect his estranged wife ends up landing her in major trouble as she had previously claimed she didn't recognize Mike at all. Her husband's declaration that Mike was Toby and that she had been seeing Toby then makes her lies known.
Led out of the house by police, Fi is in a trance-like state of shock as she makes eye contact with Merle being interviewed by police in the doorway. Just as Our House begins with the focus on No 91 Trinity Avenue, the Our House ending closes with a final shot of the Lawsons' beloved home, now forever tainted by what Bram and Fi had done.
How is the Our House ending different from the book?
Whilst Our House is the perfect nail-biting watch for all thriller lovers, only fans of Louise Candlish's original book would've known what earth-shattering revelations lay in store in episode 4 of the ITV drama. Whether or not these intense events would be brought to life on screen exactly as they are written in the Our House book, though, is another matter.
Just like in Channel 5's dramatic interpretation of the The Holiday book ending, the Our House book ending remains generally very similar to the writer's original storyline. Though just as viewers might've expected, there are a few small Our House book vs show differences.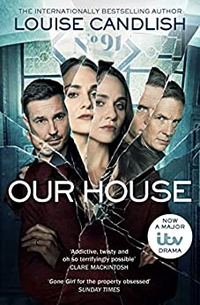 Our House by Louise Candlish, 99p | Amazon
When Fi Lawson arrives home to find strangers moving into her beloved family home she won't stop until she discovers what's really going on. She knows she hasn't listed it for sale and with her estranged husband Bram nowhere to be found, she soon starts to suspect he knows more about this than he'll admit...
In the book, the girl that Bram killed was ten-years-old, not eight as in the show, though this is a smaller difference. Much bigger is the way the show changed Bram's confession from being a letter to an audio recording. However, this is understandable given the visual nature of TV shows and makes for a much more dramatic on-screen scene of Tuppence Middleton as Fi realising not only that her husband is gone, but that she is destined for prison.
Other than that, the events of the show's ending and the Our House book ending remain incredibly similar. Opening up to RadioTimes.com for The Big RT Interview, Bram's actor Martin Compston discussed how they told the same story in the show, describing this as "hugely different" in approach, if not in storyline.
"If it's a book that's successful, inevitably you're going to love bits of the book which then get left out of the script. So we have to be faithful to [script writer Simon Ashdown's] adaptation, that's our truth and by all accounts, the way the story is told between the book and our script are hugely different," he said.
"And I encountered that before, where there was a one of my favourite books, I was very keen to get it made into something and then when I saw the TV script, you just realised how much you can miss when you jump from the novel because you've seen inside different characters' heads and different points of view, which is very difficult to do on screen."
When it comes to his character specifically, however, Our House author Louise Candlish gave him a few little "nuggets" about the essence of Bram Lawson.
"The one thing we all really kind of gripped on is that he's a really good father and you have to really grasp on to that because otherwise, he has no redeeming features," Martin said.
Now you know the Our House ending, there's plenty of time to re-watch your favourite moments as you start to spot the warning signs of what is to come...
Sign up to our free daily email for the latest royal and entertainment news, interesting opinion, expert advice on styling and beauty trends, and no-nonsense guides to the health and wellness questions you want answered.
Emma is a Royal Editor with seven years of experience working in digital publishing. Her specialist areas including literature, the British Royal Family and knowing all there is to know about the latest TV shows on the BBC, ITV, Channel 4 and every streaming service out there. When she's not writing about the next unmissable show to add to your to-watch list or delving into royal protocol, you can find Emma cooking and watching yet more crime dramas.