Brilliant comedy Noises Off makes a triumphant return to the West End
For an evening of unparalleled laughter, Michael Frayn's uproarious farce Noises Off should be top of your list.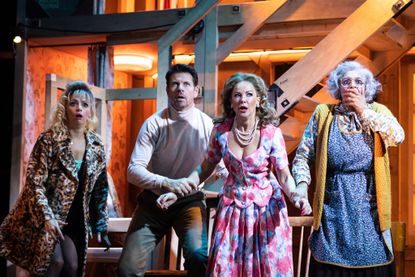 Farce may have fallen from favour in recent years but this had the audience at the London's Garrick Theatre laughing like drains from beginning to end.
Although Frayn has penned many plays, comic essays and novels, this is his most celebrated work. And forty years since its first appearance at the Lyric Hammersmith in 1982, it's clear that comedy gold doesn't lose its lustre.
With Meera Syal first on stage as Dotty Otley playing housekeeper Mrs Clackett who tries to answer the phone while balancing a plate of sardines, the scene is set for an evening of misunderstandings, mishaps and mayhem.
MORE:London theatre breaks: our favourite London show and hotel combos
The premise is that we are witnessing a theatrical troupe in the final rehearsal for a touring show called Nothing On.
Mrs Clackett is looking after a house that's for sale while its owners are in Spain evading the Inland Revenue.
Add in an estate agent who's hoping to use the des-res to impress a young lady; a hapless burglar, the unexpected return of the debonair owners and more opening and closing doors than you could shake a stick at and you've got the picture.
Lloyd Owen plays Lloyd Dallas, whose directorial strength seems to be sarcastic put-downs and playing around with the cast sexpot as well as the young assistant stage manager.
Dotty Otley's failure to remember her words is not a patch on her ineptitude with the sardines, which appear and disappear almost as many times as the characters dive behind doors, walk through windows or drop their trousers.
The comedy timing is superb, with lines delivered with millisecond accuracy and stunning physical comedy set pieces, involving a cactus, an axe and a bottle of whisky.
In the final act, the action is all backstage with fraught relationships, missing props, furious hand gestures and hilarious audience announcements that are all out of synch as the show unravels in the hands of actors behaving like rank amateurs.
MORE:Why you should really go see The play That Goes Wrong
It's all a glorious, exaggerated portrayal of human egos and frailty, with more pratfalls than it should be possible to pack into the 2 hours and 10 minutes running time. Book now – you won't be disappointed.
Find out more atnoisesoffplay.com.
#NoisesOff @NoisesOffPlay
Noises Off is at London's Garrick Theatre until January 4.