Why you should really go see The play That Goes Wrong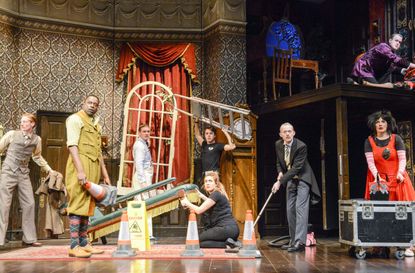 Looking for a night full of laughter? The Play that Goes Wrong won't disappoint!
This week the Am Dram spoof celebrated five years in London, plus it has won countless awards on Broadway.
It's also spawned a new offering, Magic Goes Wrong, which opens on December 14 at London's Vaudeville Theatre.
A farce within a farce, The Play That Goes Wrong reveals what it's like when Am Dram really does go belly up. It takes you into the world of the Cornley Polytechnic Drama Society, which is putting on a performance of a murder mystery.
It's every bit as shambolic and delightfully funny as you might imagine and a must if you're a fan of Am Dram – in fact it's probably even funnier if you're not!
GET TICKETS HERE (opens in new tab)
Thanks to the talents of the team at Mischief Theatre, the brains behind the play that began life on the comedy fringe circuit, it works a treat.
With impeccable comedic timing, the set keeps falling to pieces, actors are knocked unconscious and the soundman plays Duran Duran by accident.
Playing at muddling their lines and having to deal with set doors that are mysteriously wedged shut, the humour flows effortlessly, and the cast clearly have a lot of fun.
There's plenty of knockabout fun – at one point there's a character hidden in a clock while another hangs from the ceiling as the manor house 'lift' breaks down.
I was hiding behind my hands at one point when a character hit his head yet again, and virtually spitting out my wine when the 'snowstorm' outside the manor house is portrayed by a stage-hand throwing pieces of ripped-up paper in the air from backstage.
Sitting in the audience, it feels like being at a fringe performance rather than a formal West End show, so it's a relaxed, fun evening out.
You'll be laughing along and even shouting at the actors. Be warned though, they might shout back!
The Play that Went Wrong (opens in new tab) is at the Duchess Theatre and Magic Goes Wrong (opens in new tab) will be at the Vaudeville Theatre from December 14.