London theatre breaks: our favourite London show and hotel combos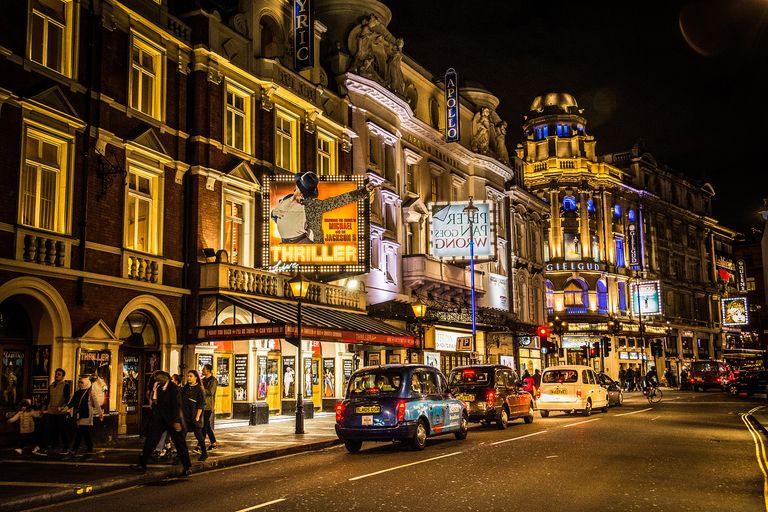 (Image credit: Alamy Stock Photo)
Whether musicals are your bag or you prefer a gripping play, London is the ultimate theatre break destination. Here are our favourite shows and the best hotels to stay in nearby.
Treat yourself to a theatre break in London with these excellent shows…
Wicked, Apollo Theatre, Victoria
Best London show for: a magical night out
More than nine million people have enjoyed this thrilling show so far, and it's now the fifth-longest running musical in the West End. Amazing costumes and toe-tapping tunes make this a brilliant night out as you delve into the world of Oz to follow Glinda The Good and the Wicked Witch of the West on their path to adulthood.
Stay at: The Grosvenor Hotel, where grandeur and luxury are the only setting
Book tickets here from £21.50 >
9 To 5 The Musical Savoy Theatre, The Strand
Best London show for: brilliant songs
Sing along to Dolly Parton's award-nominated score as this musical tells the story of three women battling against their sexist supervisor. The hilarious show, with its Carry On humour, is a delightful adventure into the 1980s world of work, women and revenge. The ideal girls weekend away or mid-week theatre break.
Stay at: ME London, a luxurious modern hotel with a rooftop ripe for after-show cocktails
More like this: The best spa hotels in London
The Lion King, Lyceum Theatre, The Strand
Best London show for: a stage classic
This family favourite isn't just for kids – the costumes, songs and set make a theatre break to see The Lion King well worth it no matter your age. Watch Nala and Simba court one another in this wonderful, emotional and occasionally hilarious musical, and sing along to those Elton John classics.
Stay at: The Savoy, an iconic hotel just over the road from The Lion King theatre
Rip It Up, Garrick Theatre, Leicester Square
Best London show for: incredible dancing
Enjoy the sounds of the sixties with this explosion of song, dance and amazing visuals. Aston Merrygold (JLS) and Jay McGuiness (The Wanted) sing tunes while Olympic champion Louis Smith performs amazing gymnastic feats. This energetic adventure will leave you exhausted, enthralled and wanting more.
Stay at: W London, just across Leicester Square, this mammoth, striking building has modern style down to a T
The Play That Goes Wrong, Duchess Theatre, Covent Garden
Best London show for: lots of laughs
If you're the kind of person that loves to cringe, The Play That Goes Wrong is the London theatre break for you. This multi-award-winning show is a play within a play, where the Cornley Polytechnic Drama Society are putting on a 1920s murder mystery, but disaster strikes at every possible turn. Be prepared to leave with a belly ache after all those laughs.
Stay at: The Waldorf, where service is so impeccable you can be sure nothing will go wrong during your stay
The Phantom Of The Opera, Her Majesty's Theatre, Trafalgar Square
Best London show for: mesmerising music
This epic musical has been performed more than 12,000 times, and with Andrew Lloyd Webber's sublime score it's no wonder it continues to draw crowds. Described as one of the "most beautiful, spectacular productions in history" by the Sunday Express, this really is a theatre bucket list must-see.
Stay at: The Trafalgar St James, a stunning Curio Collection hotel by Hilton with swish interiors and a great rooftop restaurant with views over Trafalgar Square
The Woman In Black, Fortune Theatre, Holborn
Best London show for: a frightful night
One of the most gripping, tense and terrifying stage plays of all time, The Woman In Black is a feat of acting. Just two men (and a woman, dressed in black of course) make up the cast of this thrilling, haunting show. Audiences have been known to shriek in horror, so it's not one for the faint hearted.
Stay at:The Hoxton, Holborn, where there's nothing scary about the hip interiors and to-go breakfasts
Book tickets here from £19.99 >
Les Miserables, Queen's Theatre, Shaftesbury Avenue
Best London show for: a compelling classic
This global stage sensation is a must-see, with captivating acting and an iconic soundtrack including the likes of 'I Dreamed A Dream' and 'Bring Him Home'. Set in 19th century France, it's a story of unrequited love, broken dreams, passion, sacrifice and redemption.
Stay at:Hazlitt's, where classic luxury can be found in an 18th-century Soho townhouse